SpaRitual's Slow Beauty for a Fast World
Published: Monday, October 31st 2011
in Beauty
I've come to realize that ever since I caved and bought a smartphone, it has been an accessory that remains constantly next to me or in my hands. I am officially that person that checks Facebook when I'm in the grocery store, who tweets at dinner with her fiancé and who checks emails until my head hits the pillow. I know with 100 percent certainty that I am not at all alone. Who knows when it happened, but we are now a society that is always "on" – we're always connected, always updating, always moving at 100 mph. Slow down and smell the roses, I think I heard that maybe ten times a day growing up and here I am, on the brink of 25, planning a wedding and concerned only with the color of the roses, not about slowing down to appreciate their beauty. This is why at a recent breakfast held by SpaRitual to discuss Slow Beauty and the Slow Movement – my ears perked up at the concept of turning "off."
The idea of slowness has a negative connotation at this point ─ why slow down when everything around us is speeding up? Shel Pink, founder of SpaRitual, created a company committed to Eco-friendly products using vegan ingredients. The brand's philosophy promotes an understanding of beauty as a holistic connection to ourselves and to the environment. The Slow Beauty belief is relatively self-explanatory; it encourages us to slow down and to have a greater awareness and understanding.
To embark on the path of Slow Beauty, SpaRitual has developed Seven Outposts: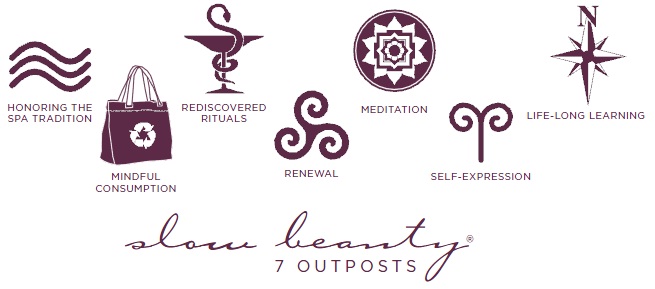 Honoring the Spa Tradition:  Spa, Latin for "health through water," is rooted in an ancient tradition of wellness. Today spa is a safe haven to reconnect to ancient healing traditions and ourselves. We honor the spa tradition on location or create a spa environment at home.
Mindful Consumption:  Purchasing decisions based on safer ingredients, better work conditions, environmental stewardship, giving back, authenticity and transparency.
Rediscovered Rituals:  A holistic beauty routine based in health and wellness. Look to ancient cultural traditions such as Ayurveda and homeopathy, as well as nutrition to enhance your beauty routine from the inside out.
Renewal:  Live in your natural rhythm through seasonal cleanses, down time and a good night's sleep.
Meditation:  A regular meditation practice strengthens the immune system, helps maintain a youthful appearance, calms the nervous system and builds grey matter.
Self-Expression:  The byproduct of self-expression is confidence, a greater sense of freedom, increased creativity and joy.
Life-Long Learning:  Promotes wisdom, the development of natural abilities, the free exchange of ideas and an expansive relationship with yourself in the world.
I for one am taking note and turning off. I've particularly connected with the concept of rediscovered rituals, renewal and mediation. I used to use my Sundays as the day to get all of my errands done that accumulated after a week's worth of procrastination, but now I use them as a day to unwind and relax. I take a long bath as opposed to a quick shower, I indulge in face masks or go for a manicure, and I do my best to keep my phone in my purse or in another room. After a soothing Sunday I'm ready to hit the ground running on Monday. I feel quicker, more energized and ready for the fast world around me. Slow Beauty officially has one more follower.