Ways to Earn
My365Rewards

Points
Add to your Mobile Wellness Card or purchase Gift Cards on spafinder.com
(1 point for every $2 spent)

Book appointments and classes on spafinder.com or through The Wellness App.
(10 points)
Pay for your appointment or class using your Spafinder Wellness 365™ App
(1 point for every $2.50 redeemed)

Review any of our 25,000+ locations worldwide
*Limit 4 reviews per month
(10 points)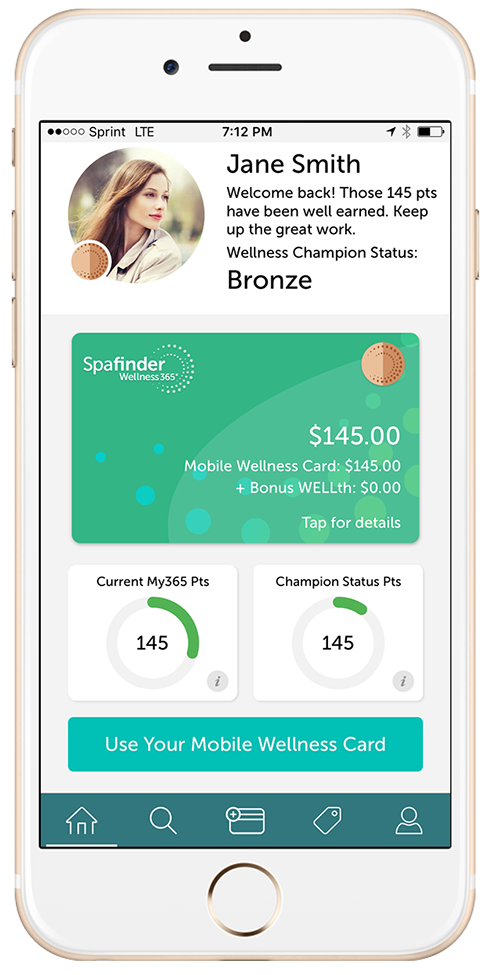 REWARDING WELLNESS 365 DAYS A YEAR
At Spafinder Wellness 365™ we know that wellness means different things to different people. Whatever wellness means to you, from a daily workout at the gym, to a rejuvenating facial at the spa, we believe you should be rewarded for living well. My365Rewards are here to help you live well, all year round!
Learn More More About The Wellness App »
RANDOM ACTS OF WELLNESS: HEALTH IS WELLth
A large part of our philosophy is PLAY. So, we added fun into checking into your wellness app each day by giving you more opportunities to earn Bonus WELLth – our bonus bucks that are valid only for short periods of time towards appointments, classes, and more!
Check Out More of The Wellness App's Features »
For a complete listing of terms and conditions, pleaseclick here »