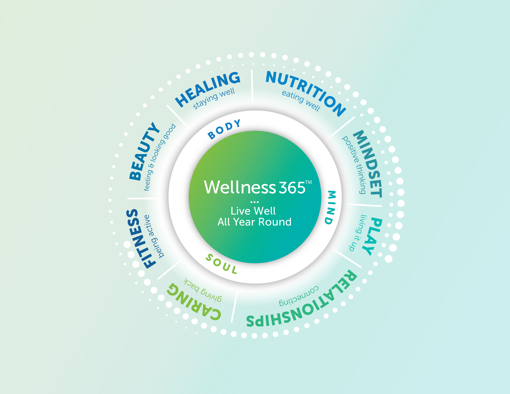 Spafinder Wellness is the world's largest media, marketing and gifting company for the wellness industry. With nearly 30 years of experience as a spa and wellness authority, the company, through its Spafinder Wellness 365™ brand, guides the industry, partners, consumers and employers with the most comprehensive resource for wellness-related products, services and insight in the marketplace.
Millions of people find inspiration to live well via the Wellness 365™ platform that extends throughout all company entities: from the Spafinder Wellness 365 brand—also known for its global network and widely distributed gift cards, available at 70,000-plus retailers worldwide—to the Workplace Wellness 365™ division, which offers rewards and incentives that help companies to establish a culture of health in the workplace.
The Wellness 365 Philosophy
Inspiring wellness 365 days of the year: that's the Spafinder Wellness mission.
Spafinder Wellness is the world's best resource for feeling good and living well all year round. Keeping well is a 365-day affair—this concept represents the company's holistic philosophy of care for the body, mind and soul, anchoring both the Spafinder Wellness 365 and Workplace Wellness 365 brands.
The company recognizes that wellness means different things to different people—from Fitness to Beauty, Healing to Mindset, Nutrition to Caring, Play to Relationships. It is devoted to helping the industry, partners, consumers and employers find their own path to wellness with inspiration, knowledge and ideas that make keeping well easier and more accessible, each and every day.
Via the Spafinder Wellness 365 brand, audiences can learn about the newest fitness or health craze, book a class or a spa treatment, buy a gift card for someone special, take advantage of an exclusive last-minute deal, discover the best places to travel or simply make time to live well at any of the wellness locations that make up its global network.
Interested in learning more?  Click here
Giving Back
In the spirit of our promise to help people live well all year round, Spafinder Wellness 365 supports Wellness for Cancer, which provides standardized, cancer-focused training for the wellness industry.  We applaud  Wellness for Cancer's efforts to help spas and wellness facilities worldwide increase their level of comfort and confidence in delivering safe, nurturing services to clients who live with cancer.