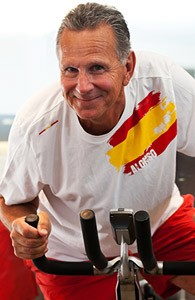 Pete Ellis, Chairman & CEO
Pete Ellis, chairman and CEO of Spafinder Wellness, Inc.®, has devoted his career to creating better experiences for consumers. As one of the largest auto dealers in the western U.S., he pioneered consumer-friendly policies in the sale of new and used automobiles. In 1994–95, he launched the first automotive buying and research website, Autobytel.com, effectively revolutionizing an entire industry. Using technology to make pricing and inventory transparent, his visionary marketing platform became the basis for every commercially viable automotive website in existence.
After taking Autobytel public in 1999, he formed Jubilee Investments, which became the majority shareholder of Spafinder Wellness. Under his leadership, the company has been transformed from a niche spa information company to the world's largest spa and wellness marketing and media channel. In 2007, Pete also founded SpaBooker (which became GramercyOne), a leading provider of cloud-based management and marketing solutions.
Pete is a founder and chairman emeritus of the Global Wellness Summit and co-founder of the Global Wellness Institute. His Internet technology innovations are part of the Permanent Research Collection at the Smithsonian National Museum of American History.