Healthy Cleanse, Healthy Body: 13 Detox Treatments for 2013
Published: Wednesday, December 26th 2012
in Beauty
---
The New Year. The time of resolutions and shedding the holiday weight that seems too easily packed on during the season's endless parties, late-night outs and family-style dinners. When you're ready to get back on a nutritious eating track, perhaps consider trying a detox—when done correctly and safely, it can be an excellent precursor to jump start a healthier diet.
"General body cleansing is something everyone should do on a regular basis because it helps the body's function work better," says Madeleine Marentette, founder, president and CEO of Grail Springs Wellness Retreat & Spa and author of the best-selling Grail Springs Holistic Detox: For Body, Mind, and Spirit. "When we do a body cleanse, it essentially starts to help everything to unblock and allows things to run smoother, so the whole system is functioning together as it should."
Here are 13 detox treatments to try in 2013—from signature spa therapies to  DIY at-home detox!
Lymphatic Drainage Massage
"One of the first things we try to do [at Grail Springs] is address the lymphatic and get it moving," Marentette says. Lymphatic drainage massage is one way to do just that: This therapeutic treatment—designed to boost circulation and drain trapped water and toxins from the body through the lymphatic system—incorporates gentle, wavelike movements on the face, neck or entire body.
Seaweed or Salt Bath

Filling the bathtub with seaweed extracts or salt for a long, well-deserving soak is not only relaxing and therapeutic, it's good for the body. "The body gets filled with minerals that it's lacking and in exchange it's drawing out the toxins," Marentette says. She also recommends what's known as the "sole bath" during the full and new moon phases; the cleansing effect of the sole (pronounced so-lay) mixture bath is said to equal that of a three-day fast, Grail Springs says.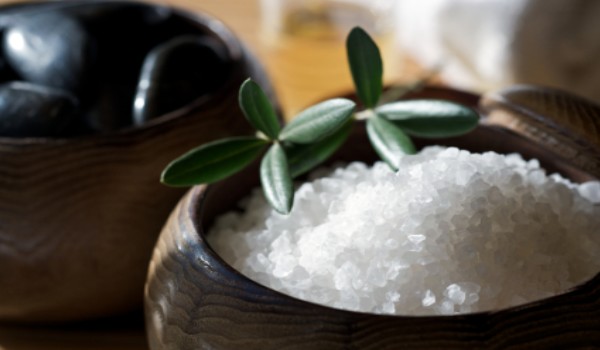 Salt Scrub
Like the salt bath, salt scrubs are popular detoxification methods. "Detoxifying body treatments give you an edge on maintaining your weight goals when paired with a healthy diet and exercise," says Caleb McGrew, spa manager at Spa e, Miami. The stimulating Repêchage Sea Spa Glow, followed by a warm Repêchage Seaweed Body Mask application, dubbed "Tidal Wave" at Spa e, Miami, "helps my clients to achieve and maintain the lean, toned, sexy bodies South Beach is famous for."
The Dead Sea body treatment, featuring Dead Sea salt and mud, at Canyon Ranch Hotel & Spa in Miami Beach is also all the rage with the South Beach scene. These ingredients "are high in trace elements and similar in composition to the minerals already found in the body," says Charlotte Prescott, Canyon Ranch spa and fitness director. "When we are stressed, or don't have balance in our life, we tend to deplete these minerals and the Dead Sea treatments help to replenish the missing elements."
Dry Brushing
There's no excuse not to perform dry brushing. This DIY at-home treatment is as simple as purchasing a natural bristle brush and gently brushing dry skin for just two minutes a day. Move the brush from your feet to the chest in a circular motion—always toward the heart!—to get the lymphatics moving. Read more.
Movement
Choose to move. "If people are not moving around, that's a problem because [the lymphatic is] the first place where the toxins flush—the lymphatic system is the only system in the body that doesn't have a pump so we [have to] move and move and flush the lymphatic through moving," Marentette says. Fitness, walking, running, hiking and jumping on a trampoline are all excellent ways to help the lymphatic move.
Gua Sha
According to Grail Springs, this Chinese massage technique dates back 2,000 years ago and incorporates essential oils and a green, smooth piece of jade: Through specific movements transporting the jade along the body, it helps move the lymphatic. Gua Sha is aimed at detoxifying, stimulating the immune system and reducing stress, among other conditions.
Images courtesy of Grail Springs
Sauna or Steam Bath
Sweat it out—heat promotes sweating and boosts circulation, relaxes muscles and releases toxins. Take a moment and sit in the sauna, Roman laconium and caldarium, or try a ritual like the temazcal or Turkish hammam.
Fango
Italian for "mud," fango is a treatment where a mineralized mud and oil or water blend is applied to the body as a heat pack and acts as an antidote to detoxify skin, increase circulation and relieve muscles.
Left image courtesy of Abano Grand Hotel

Body Wrap
"Full-body detoxifying treatments help overall circulatory stimulation, encourage elimination of toxins, soften and smooth skin while providing an overall sense of wellbeing," says Repêchage CEO and Founder Lydia Sarfati. "A seaweed wrap is an ideal body treatment utilizing the European traditions of thalassotherapy to help detoxify the skin. Peppermint, triple mint and fresh seaweed warmed and smoothed over the body help to relieve stress and invigorate sore stiff muscles." A stimulating body massage after a detoxifying mask will further increase your circulation and maximize the benefits of a wrap, Sarfati adds. "This type of treatment is a fabulous supplement to healthy lifestyle goals!"
Grail Springs is renowned for its "Red Carpet Inches-Off Mineral Wrap," which flushes away the buildup of health-threatening metabolic waste from the body; the Red Carpet Wrap is guaranteed to help you lose at least 10 inches after your first wrap.
Aquavana
One of Canyon Ranch's signature—and unique—activities is Aquavana, which exposes the body to a contrast of hot and cold temperatures. The contrast of temperatures stimulates the lymphatic system, facilitating the drainage of toxins and fluids from the body, Prescott says. "For this reason, we strongly advise following each aquathermal circuits with a cooling element, such as the experiential rains or the use of the igloo."
Image courtesy of Canyon Ranch
Juice Fast/Cleanse
Advocates claim this short-term diet regimen encompassing fresh fruit or vegetable juices detoxifies the body. And while they're not for everyone, some of our colleagues have undergone juice cleanses with positive results (I, personally,  favor Organic Avenue's blend of LOVE* cleanses). And, of course, it's always good to note that a juice fast must be done safely for a short-time period only. If juice isn't your thing, try these teas designed to cleanse, relieve and balance.
High-Alkaline Diet
Decrease inflammation and lower the acidity in the body through high-alkaline foods, such as greens. "As soon as you start moving in a high-alkaline diet, you start to detox," Marentette says, who recommends two seven-day body cleansing annually—which means laying off the red meat, sugar and white race. Alternate habitual staples by using maple syrup rather than sugar, swapping out white rice for brown rice and, if you're a meat eater, make sure your plate comprises 70 percent greens, 30 percent protein. "As soon as you do that the body starts to decrease in inflammation," Marentette says. "We see within two days [at the resort], people notice they are experiencing a weight loss, losing a lot of water retention, cheeks are getting redder, eyes are getting whiter and their energy levels go up."
Detox the Mind
Rid yourself of everyday stresses—recognize that detoxifying and cleansing the mind is just as important as detoxifying the body. Relax your mind for a few briefs moments each day, whether it be through meditation, catching some Zzzs, taking a bike ride, stepping away from the computer, shutting off the smart phone, etc.
Canyon Ranch offers "a number of treatments that aid in getting to a place of mindfulness and balance," Prescott says. She suggests the spa's Ayurvedic Body Rituals such as the Ayurvedic Herbal Purification service or Svedhana Herbal Steam Treatment. "What makes these services especially effective is the use of neem—known as the all-purpose medicine in Ayurvedic healing, the ingredients help to purify the skin," Prescott says.
You Might Also Like: