Bringing the Spa Home with Great Bathroom Accessories & DIY Treatments
Published: Wednesday, March 13th 2013
in Beauty
---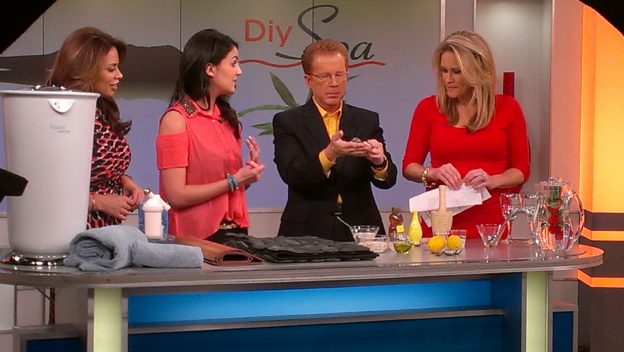 This morning I was lucky enough to be featured as a guest on CBS New York's The Couch, where I shared five accessible and affordable products (think: towel warmers and stone bath mats) to spa-ify any bathroom and home on a budget, as well as two simple and soothing DIY spa treatments! Check out the segment and let us know what you think!
Will you try one of the DIY recipes or spruce up your bathroom with a special spa-like product? Get the recipes and product info below the video.
DIY spa recipes:
Great for clearing the mind and relaxation, rosemary offers wonderful aromatherapy benefits, mixed along with sea salt (a natural exfoliant), grapeseed oil (a remedy for dry, itchy skin), lemon juice, and honey (to retain moisture) this Rosemary Citrus Body Polish is a great way to get your skin in tip-top shape for spring! Get the full DIY recipe here!
The Oatmeal Hand Care Treatment is perfect for our dry rough skin now that winter's coming to an end. Just mix 1/4 cup water with 2 tablespoons of oatmeal and let sit for a bit while the oatmeal softens and becomes a gel-like texture. Next, mix in 1.5 teaspoons of lemon juice and .5 teaspoon of olive oil and then massage onto hands and let it absorb for 1-2 minutes before rinsing with cool water. The mix of the oatmeal, lemon juice, and olive oil help to remove toxins from the skin while adding the moisture it so desperately needs right now. Oatmeal is also a great anti-inflammatory so it helps with skin conditions like acne, is a great natural exfoliant (perfect for our dry skin now that winter is nearly through!) and also provides a nice barrier to keep our skin safe from free radicals.