Editors' Picks 2011: Products We Love
Published: Tuesday, December 20th 2011
in Beauty
---
Each year our editorial team encounters dozens of extraordinary spa and wellness products, and a special few make their way onto our must-have lists for years to come. This year was no different! Here are each of the Club Spa editors' top five picks of tried and true favorites for 2011!
Clean Plates, Brooklyn and Manhattan Editions, 2012
I love the Brooklyn and Manhattan editions of this handy little booklet, Clean Plates: A Guide to the Healthiest Tastiest and Most Sustainable Restaurants by Jared Koch, which makes eating out and eating healthy a simultaneous possibility. In addition to restaurant listings, Koch, also a nutritional counselor, shares a plethora of healthy eating info. cleanplates.com; $14.95 for one or $24.95 for both. You can also purchase from SpaRahRah!; $9.95!
SUPER First Blush Brightening Serum
From the packaging to what's inside, this pretty pink serum, a part of Dr. Perricone's SUPER line containing superfoods, features carotenoids, the antioxidant found in melons, to improve the appearance of discoloration and to protect the skin from environmental stressors. Silky smooth and delicious smelling, the First Blush Brightening Serum is formulated with Ferulic Acid and Vitamin C Ester, too. getsuper.com; 1 fl. oz., $48
Caudalie Organic Herbal Tea
This deliciously light yet flavorful fruity and herbal tea helps me warm up and relax. Created exclusively for the Vinotherapie Spa Tea Room, this tea is certified by Ecocert and contains five organic, health-promoting ingredients: red vine, cinnamon, blackcurrant, orange zest and blueberry. A bonus to this tasty tea is that it is said to promote drainage and act as a diet aid. amazon.com; 20 satchels, $14 or available as part of the Body of Your Dreams Spa in a Bag; $49
Amore Pacific Moisture Bound Rejuvenating Crème
My combination skin loves this preventative hydrating cream. Using mineral-rich bamboo sap in lieu of water to nourish and hydrate, and chock-full of antioxidants from an infusion of Asian botanicals to revitalize and firm the skin, I love the green tea and lotus extract ingredients, which provide eight hours of time-released antioxidant protection against free radicals. Perfect, especially for winter months! Sephora.com; 1.7 oz, $150
The FIRM: Slim & Sculpt Stability Ball
The entire staff here at SpaFinder received yoga balls earlier this year. Sitting on mine at my desk did wonders for my core, not to mention, my posture. If you don't want to use it at the office, use it at home in a variety of ways to strengthen and stretch muscles. The possibilities are endless. The FIRM: Slim & Sculpt 65cm Stability Ball; $19.98.
Sultra: The Bombshell Rod Curling Iron
If I were stranded on a desert island then I would hope it would be one with a power outlet so I could use my beloved curling iron. Not one weekend goes by that my hair isn't perfectly (and quickly!) coiffed with this amazing conical iron. It comes with a pink glove to save your hands from burns and you simply wrap your hair around the rod, leave for 12 seconds and you are left with beautiful, red carpet–ready hair! Sultra The Bombsell 1" Rod Curling Iron; $130
Clarisonic Mia Sonic Skin Cleansing System
Ever since my best friend gifted me with this leopard-print face cleaning tool, I have not only become obsessed, but my skin looks better than ever. Recommended by dermatologists and used at some of the top spas, this tool is a must-have in any skincare arsenal! It cleanses deep into pores, removing all the makeup and dirt from the day, leaving you with exfoliated, smooth, clear skin! Clarisonic Mia Sonic Skin Cleansing System; $119
Seche Vite Fast Dry Top Coat
No matter what polish I use to paint my nails, they are always topped off with Seche Vite. This quick drying top coat is a must. It makes nails look shiny and finished and dries the polish nearly immediately — great if you're in a hurry. Seche Vite Fast Dry Top Coat Ulta; $9.95
Molton Brown Medio Candelas
Of all my favorite things, a cup of tea, a good book and a lit candle are at the top of the list. I find lighting these Molton Brown candelas to immediately fill my home with a warm, earthy scent that makes me feel ultra cozy and relaxed. Molton Brown Medio Candelas; $49
Soap and Glory: The Fab Pore™ Facial Peel
This is more of a mask and less of a peel, but every time I use it I'm left with soft skin and smaller pores. My face feels and smells super clean and it's as easy as 15 minutes in you daily shower! I happen to be in love with the entire Soap & Glory line of products, but if I had to pick one that I needed on my bathroom counter — hand's down it's The Fab Pore Facial Peel – Sephora;  1.7 oz,  $25
The Water Secret: The Cellular Breakthrough to Look and Feel 10 Years Younger
I've always been pretty good at keeping a secret, but this one is too good not to share. I'm spreading the word about The Water Secret (Wiley) by skincare guru Dr. Howard Murad. Fans from Joy Behar to Jeff Probst have raised a glass to this book, which taps into the concept that eating your water, not just drinking it, is the key to a healthy, sustainable lifestyle — and offers a refreshing take on making small changes to accomplish this. www.thewatersecretbook.com; $18.95
Macadamia Natural Oil's No Tangle Pre-Styler
Moroccan oil might have been the slick trend last year, but there's a new oil blend in my hair care collection: macadamia mixed with argan. The No Tangle Pre-Styler from Macadamia Natural Oil keeps my locks knot-free, smooth, shiny and smelling yummy. And used with its sidekick, the ultra-bendy No Tangle Brush? Strands are tangle free and split ends be-gone for the first time ever. www.Macadamiahair.com; Pre-Styler, 3.3 oz. $13; 8.5 oz., $23, No Tangle Brush, $15
Caudalíe Vinosource Quenching Sorbet-Crème
Caudalíe founder Mathilde Thomas is said to always carry the Vinosource Quenching Sorbet-Crème with her, and undeniably, it's a product any traveler wants on his or her wish list. The soft-scented crème is reminiscent of experiencing a luxurious Caudalíe spa treatment every morning and evening without ever having to leave my bathroom — and when I do travel, it keeps my skin hydrated and supple even in the dry winter season. http://www.caudalie-usa.com/; 40 ml, $40
ESPA Skin Brush
ESPA's Skin Brush, used in many body treatments at ESPA spa locations worldwide, stimulates blood and lymphatic circulation and sheds the outer layer of dull cells, exposing new, healthy, even-toned skin. Made of natural fiber from the Mexican cactus lechuguilla, this body brush is also a fabulous precursor to an in-shower body scrub and post-shower moisturizer. http://us.espaonline.com/, $29
Pevonia Enzymo-Sphérides Peeling Cream
This product requires a bit of effort when it comes to working the peeling cream onto your skin, but my brighter-complexion-end-result is worth it. This peeling cream packs a purifying punch with pineapple and papaya enzymes, combined with gingko, calendula and chamomile, and delivers with a smooth complexion devoid of blackheads, oil and other impurities. Plus it's small enough to toss in my travel-size baggie so I can take it with me on my next trip! www.pevonia.com; 1.7 oz., $42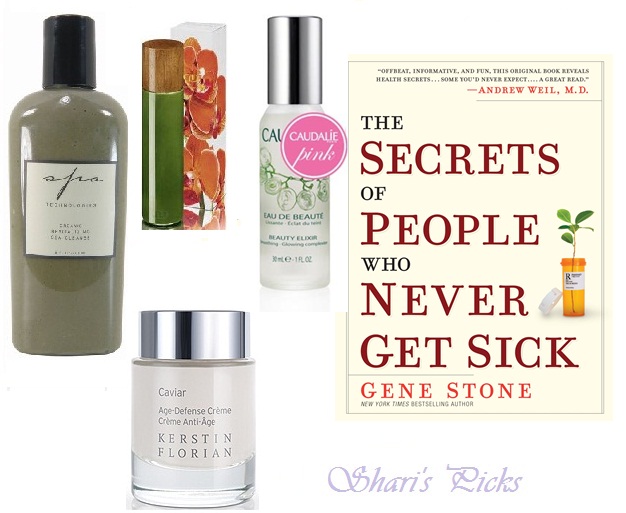 Spa Technologies: Revitalizing Sea Cleanse
Unlike cleansers that strip the skin dry (dreadful in cold months), I've found this gentle, algae-rich cleanser doesn't at all, smells simply fantastic – it contains rosemary, lavender and peppermint essential oils – and leaves my skin refreshed by way of a subtle peppermint tingle. Seaweed complexes within are said to help with anti-inflammation and natural cell replenishment. The marine-based product line is at the helm of many thalassotherapy treatments at Gurney's Inn in Montauk. spatechnologies.com; 6 oz., $30
The Secrets of People Who Never Get Sick
Veteran health writer Gene Stone collected secrets from 25 people, some known experts in wellness, who never get sick.  Secrets range from prayer to exercise, from hot soup to a cold shower, things not too "out there," as well as surprising tips that I'm eager to embrace (more napping, more garlic and calorie reduction, to name a few), in this "crash course in wellness."  Stone provides the science, research and myths behind each secret and offers advice on how we all can stay well. I'm hoping this read will keep me footloose and flu-free all through the dead of winter! SecretsofPeople.com; Hardcover from $16.63
DayNa Decker: Botanika Essence Buffer
I fell in love with this ultra-light body exfoliant that was part of a luxurious, multi-sensory full-body treatment at the Spa at the Setai Wall Street. Fine pumice lava crystals gently remove dead skin cells and meadowfoam oil helps to keep the skin hydrated.  The divine clementine fragrance (one of ten available) is a velvety citrus with sweet woods, orange flower, neroli, honey, black tea and cassis musk, and free of parabens, synthetic colors, et al.  With its sophisticated, unisex, eco-friendly packaging, this would make a great gift for a spa-product lover.DayNaDeckerStore.com; 10.4 oz., $53
Caudalíe: Beauty Elixir
The light and subtly sweet pick-me-up for your skin makes a great base for make-up, as well as an after-shave for men. I have a total aaah moment each morning when I spray it on my face. Not only does this product feel refreshing, it hydrates, helps your moisturizer penetrate, tightens the pores and fights dullness. Caudalíe's vinotherapists suggest you "apply between your foundation and powder to perfectly set makeup." The French-made elixir contains grape, orange blossom, rose, organic balm mint and rosemary and is good for daily beauty prep (pre-moisturizer), throughout the day and for hydrating spritzes on long flights.  Caudalie-usa.com; 1 fl. oz., $16
Kerstin Florian: Caviar Age-Defense Crème
I use this powerfully rich and soothing crème at night to nourish my skin and provide noticeably lasting hydration in the morning.  Protein-rich caviar is said to help minimize signs of aging and is highly concentrated in minerals, vitamins and essential fatty acids, and known for its moisturizing, regenerating and protecting properties. In addition, this paraben-free crème contains a natural fragrance derived from Rose and Mimosa Absolute.  To use, apply to cleansed face, neck and décolleté daily (or nightly, as I have found!). KerstinFlorianUSA.com; 50 mL / 1.7 fl. oz., $150
Read all about last year's products here!