Serving Up Fall Flavor, Spa-Style: DIY Pumpkin Scrub, Mask & More
Published: Thursday, October 22nd 2015
in Beauty
---
Pumpkin pie is yummy, but there's nothing better than a pumpkin mask or scrub—celebrate the fall season with three simple DIY spa treatments these properties are dishing up.
Pumpkin Scrub from Waldorf Astoria Spa at El Conquistador Resort & Las Casitas Village, Puerto Rico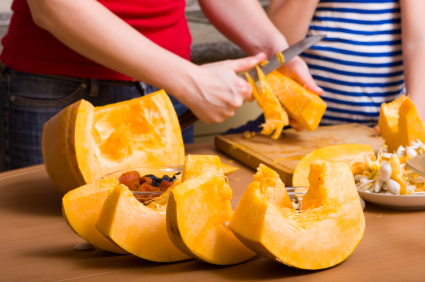 Pumpkin, packed with Vitamin A, C, and zinc, promotes healthy skin.
1/2 cup 100% pure canned pumpkin puree
1/4 cup corn meal
2 tbsp sea salt
2 tsp pure maple syrup
Combine all of the ingredients in a bowl and mix well. To use, massage the scrub into dry skin. Let the scrub sit for a couple of minutes. Rinse off in the shower and towel dry. Store any leftover scrub in the fridge.
Pumpkin Face Mask from Acqualina Spa by ESPA's Lead Therapist Kim Cooke
Antioxidant-rich pumpkin will leave skin smooth, soft, and glowing.
1 tbsp canned organic pumpkin
1 tsp honey
½ teaspoon milk
Mix all ingredients until smooth. After cleaning and exfoliating your face, apply a coconut oil to the face, gently massaging to stimulate the circulation. Apply pumpkin mixture and let set for 15 to 20 minutes. Rinse with warm water.
Pumpkin Body Treatment from The Forrest Spa at The Lodge at Glendorn, Bradford, PA
Book this seasonal treatment at The Forrest Spa (which uses vanilla and pumpkin oils and incorporates a full-body pumpkin exfoliation, pumpkin spice mask, and warm steam shower), or try this DIY version at home!
Small quantity organic or pure pumpkin
Sugar
Essential oils you have on hand (olive, jojoba, almond, coconut, etc.)
Vanilla essential oil (optional)
Cinnamon spice
Mix a small amount of organic or pure pumpkin (set remaining pumpkin aside) with sugar. The more sugar used, the more abrasive the scrub. For home use, olive, jojoba, almond, or coconut oils are the best to use. You can also add a little vanilla essential oil to give it a nice scent that blends well with the pumpkin treatment.
For a mask, mix the remaining pumpkin with cinnamon spice. Leave the mask on for 20 minutes and then massage into the skin while showering with warm water.