*No minimum purchase necessary.
Offer cannot be combined with any other promotion or applied to previous purchases.
This offer may be changed or withdrawn at any time.
About Spafinder Wellness, Inc.®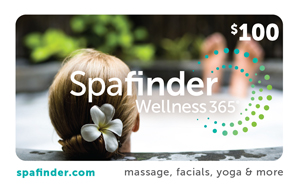 Spafinder Wellness is the world's largest marketing, gifting, incentives and rewards company for the wellness industry and the leading consumer resource for feeling good and living well all year round.
With now over 25,000 wellness partners worldwide, including wellness travel destinations, fitness, yoga and Pilates studios, spas and salons, plus access to 4,500 massage therapists through Zeel's on-demand massage services, millions of people find the resources and inspiration to keep well every day via the Spafinder Wellness 365™ brand.
The company's widely distributed gift/wellness cards are available online and at 40,000-plus retailers worldwide, as well as through corporate incentive/rewards programs. Learn more at spafinder.com, spafinder.co.uk and spafinder.ca.