Good Points. Get More with SpaFinder Rewards.
Published: Tuesday, July 21st 2009
Sign up and get SpaFinder Rewards points towards SpaFinder Gift Certificates. The more you spa, the more you can save – relaxation has its rewards!   Sign up to Earn Reward Points and get your next spa visit on us:

Earn points:
Review spas. Whether you're boasting or roasting your last spa visit, SpaFinder values your input, and so do our spa partners.  That's why this is one of the easiest ways for you to earn more points.  Each review earns you 10 points! You are limited to five (5) total reviews during each calendar month.

Book spa appointments online. Our busy lives demand the ease of booking online.  We encourage you to book online, get familiar with how easy it is, and again, score points easily! You will earn two (2) SpaFinder Rewards Points for each one ($1) dollar of spa treatments you book on www.spafinder.com
Buy spa gift certificates. It's one for one!  Each dollar you spend on a SpaFinder gift certificate as well as Gift Boutique items earns you a point.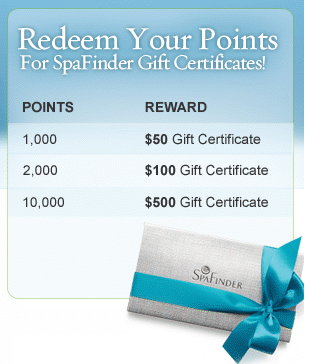 See detailed Terms & Conditions.  Start earning your rewards today.  Join Now.
Most recent from News, Trends & Events