Mediterranean Diet Proven to Successfully Prevent Heart Disease! Plus, Three Recipes
Published: Tuesday, February 26th 2013
in Nutrition
---
We're no stranger to this diet rich in olive oil, nuts, veggies, and fish! Back in March 2011 we posted The Skinny on 7 Different Diet Types to outline seven popular nutritional plans and, of course, the Mediterranean diet made the cut! In that article, we outlined that fish, fruits, vegetables, and high-fiber grains equal the heart-healthy Mediterranean diet, and that on average, 35 percent of daily caloric intake for Mediterranean dieters is from fat: healthy, unsaturated fats originate from olive, flaxseed, or fish oils; saturated fats like butter are limited, as are sweets and desserts.
Just yesterday, The New England Journal of Medicine published findings that a Mediterranean diet is, in fact, a successful primary method for preventing heart disease.
The study found that about 30 percent of heart attacks, strokes, and deaths from heart disease can be prevented if those at high risk switch to a Mediterranean diet. "The magnitude of the diet's benefits startled experts," the New York Times article covering the findings says. "The study ended early, after almost five years, because the results were so clear it was considered unethical to continue."
Up until this point, the evidence supporting a Mediterranean diet as a primary means for preventing heart disease wasn't substantial; merely, it was only linked to studies that found people from Mediterranean countries seemed to have lower risks of heart disease. Well, thanks to this study, there is finally significant and proven support for the benefits of a Mediterranean diet.
Designed in Spain as a randomized trial, the study tested the usefulness of two Mediterranean diets (one supplemented with extra-virgin olive oil and another with nuts), compared to a control diet (which was low-fat) in preventing heart disease. Participants included men (55-80 years of age) and women (60-80 years of age) with no heart disease at the moment but who had either type 2 diabetes mellitus or were linked to at least three of the major risk factors of heart disease: smoking, hypertension, elevated low-density lipoprotein cholesterol levels, low high-density lipoprotein cholesterol levels, overweight or obesity, or a family history of premature coronary heart disease. There was no calorie restriction, and exercise was not encouraged. According to the study's abstract, "from October 2003 through June 2009, a total of 8,713 candidates were screened for eligibility, and 7,447 were randomly assigned to one of the three study groups."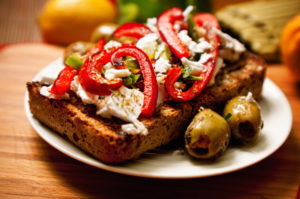 Interested in jump starting your Mediterranean diet? Check out some of these delicious and healthy spa recipes that incorporate the main pillars of this nutritional plan:
For more nutritious recipes, check out our Healthy Eating section!
You might also like:
The Budget Diet: How to Eat Healthy on a Budget
Healthy Eating at the Office: Easy & Tasty Breakfast & Lunch Recipes
5 Healthy Foods for Fighting Cancer You Should Shop for Now
Change My Breakfast: 3 Deliciously Healthy Oatmeal Recipes
Clinique La Prairie Celebrates 80th Anniversary with NYC Luncheon