Beyond Patagonia
Published: Friday, November 18th 2011
---
From the Atacama Desert to the Lake District to the very happening Santiago, Chile is on the rise as one of South America's best-choice travel destinations—and spa lovers will be very pleased.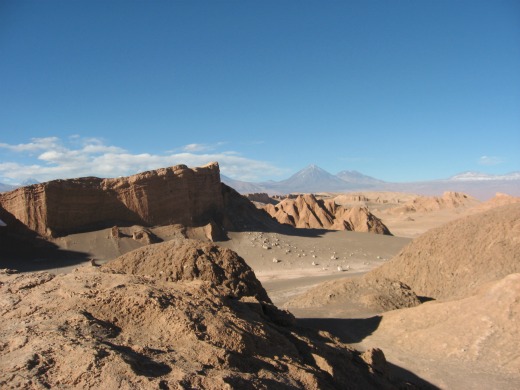 We are approaching 12,000 feet in the glorious Atacama Desert of Chile, slightly, yet happily, altitude-dizzy, winding our way up a road in a van when we come across a wild herd of vicuña, the once-endangered, delicate cousin to the llama. It is one of the first signs of life my fellow travellers and I have seen for miles. Wildlife—or any life, for that matter—must be extra sturdy to survive in this part of the world, the documented driest place on Earth. In 2010 it only rained for ten minutes. It's a fact one reads before coming here that parches the lips, but after a walk in the magnificent Valle de La Luna (Moon Valley) a day earlier, my feet crunching delightfully on the highly mineralized mix of sand, salt, and gypsum, I realize that never have I been somewhere so plant-barren yet so majestic. Lack of moisture means the best visibility in South America, and it stretches for miles, with the snow-capped Andes in the distance, meeting endless rolling hills of salt, rock, dusty, dry earth. Moon Valley: they named it well.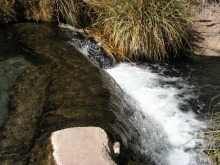 While water is at a premium in this area—much of it trickling down from the Andes into bamboo-lined rivers—there is a bubbling, natural hot spring, where we're heading today. The van hugs the bumpy, steep road that descends into a gulch as we reach the Termas de Puritama, eight pools of mineral-rich, therapeutic water, located in a nature reserve. The pools are naturally 92 degrees Farenheit and flow into each other, creating the sound of gentle waterfalls. As I soak, taking in the view of the red rocks that surround us, and the dry, tall grasses that provide some privacy from one pool to the next, any jetlag that I've felt from the long journey—during which hemispheres have been crossed, and summer has turned to winter—has been cured.
The excursion to the Termas is one of many offered by the beautifully realized eco-luxe retreat the Alto Atacama Desert Lodge & Spa, located in the Catarpe Valley, just outside the town of San Pedro. Integrated into the red-rock desertscape, the adobe-style resort, built and decorated with mostly local materials, has not so much been developed, but carefully curated. One afternoon I meander over to an area of the property that features a variety of the region's trees, then to another that artfully displays local rocks and crystal. There's even a section for llama and alpaca to graze. With a list of outdoor excursions that encourages visitors to explore the desert, these living "museums" provide an ingenious microcosm of what you'll see when you venture out beyond the resort.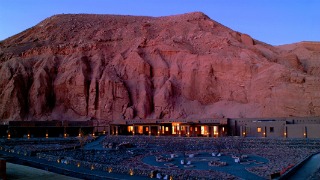 And then there's the Alto Atacama's food, rooted in Chilean cuisine with some Mediterranean and Asian inspirations, and made with local, fresh ingredients. Upon arrival, I'm treated to perfectly grilled chicken served with a delicious sauce made with the indigenous chañar berry. Also, in Chile, the desert isn't terribly far from the sea—as I note when I fly over the desert and gaze at the endless, stunning multicolored painting it makes from above, and then, in the same view: the Pacific. Fresh fish in Chile is often a menu highlight: in ceviches, empanadas, simply seared with herbs, and, as it appears on an Atacama menu one night, in a heavenly sopa (soup).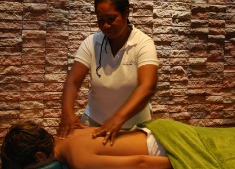 After fixing a bowl of toasted quinoa and another local fruit, pepino dulce, at the hotel's breakfast table one morning, it's time to see how the Atacama integrates the area's Atacamenian Indian traditions into their signature Puri Spa treatments. Roxana, my therapist who is from the area, walks me into one of the tranquil spa's main massage rooms, which looks right out onto the glowing hills. First on the menu: the Sabay Massage, in which little cotton pouches tied with cotton twine—one filled with those sauce-making chañar berries, and the other with a mix of seeds and the medicinal rica rica herb—are massaged into my back, arms, and legs using long strokes. Next, Roxana warms and massages my back, limbs and stomach using hot volcanic stones, which also come from the area and have been used therapeutically for thousands of years.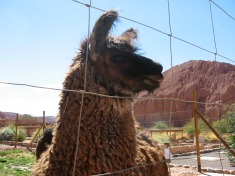 The Altiplano Mud Treatment is in this glorious mix as well. The mud is taken from the high ground of the Atacama, and Roxana tells me that this is an ancestral tradition and an expression of pachamama (mother earth). Then my face is treated to a Royal Quinoa Facial, during which high-protein quinoa seeds are mixed with yogurt for a revitalizing scrub, and quinoa flour is blended with the same yogurt for a nourishing mask. I emerge back out into the sun and greet the llamas before heading to my room.
Also not to far away from the Alto Atacama is the Tierra Atacama Hotel & Spa, another beautifully conceived desert oasis, where mid-century style meets Incan earthiness to somehow make for a thoroughly new-century space. Its UmaSpa treatment highlights include a quinoa body scrub, a desert-salt exfoliation treatment, and an utterly unique goat's milk bath with roses, mint, or chocolate.
Another day, another climate. The next morning I leave my group and the desert's dry, sunny weather to fly south to the Chilean lake district (via Santiago). After a bumpy descent into rain and thick cloud cover, the plane lands at the small Temuco airport, which is heated by wood-burning stoves.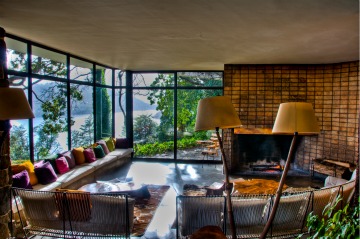 It's rainy, cool and a bit dark when I arrive at Pucon's Hotel Antumalal, but when I enter the Bauhaus-designed hotel, I'm greeted by a perfectly preserved mid-century sitting lounge and après-ski wood-paneled bar, both with crackling fireplaces. Designed by architect Jorge Elton, the hotel was the vision and passion of a nature and sports-loving couple who fled Czechoslovakia during World War II.  Their daughter now runs the hotel, and with its walls adorned with photos depicting the resort's 60-year legacy—including a visit from Queen Elizabeth in the '50s—and lovely vintage shots of the family enjoying fresh, mountain air, the hotel exudes a sense of history and warmth.
It's only in the morning that I can see how this property is blessed with such a prime location. When I pull the curtains in my room, there it is: an unobstructed view of Lake Villarica and the snow-capped Andes behind it. I'm here in wintertime, when skiing is a popular draw, but I can imagine how the Antumalal, with its lakefront property, is the perfect spot for hiking, swimming, and boating in the warmer months. As an à la carte resort, the Antumal offers many of these activities, but it also encourages guests to simply relax and meander its expansive, cultivated property, complete with a flower, vegetable and herb garden that adds fresh taste and color to the hotel's food and tables.
To celebrate its 60th anniversary, the Antumalal recently announced expanded spa services. These are offered in a separate building set into natural rock that features a sauna with views of the lake. On Spa Antumaco's menu right now are a purification and relaxation massage, Swedish massage, and Reiki, with a bigger spa menu in progress that will most likely include locally sourced volcanic mud. Yoga is also offered upon request.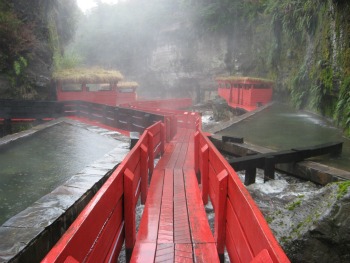 While the Antumalal's spa menu is currently short and sweet, it is one-and-a-half-hour drive away from what is, in my opinion, the ultimate spa treatment: the geothermal Termas Geometricas. To get there, we take beautiful country roads, some dirt, passing four lakes, grazing sheep, cows, campgrounds, and woodsmith studios, where furniture is built from local lumber.
The Termas Geometricas, created form the area's volcanic activity, are set in a ravine in a natural forest of Villarica National Park. When we get there, it's a stunning sight, especially in the rain. Steam rises up from the individual pools, which are connected by a beautifully constructed red wooden walkway. Water cascades down from hillsides dusted with snow. The 17 pools range from 38-41 degrees Celsius (100 degrees to 106 degrees Fahrenheit), and changing cabanas with thatched grass roofs complete the idyllic scene.
I pick my pool, with an especially good view of a waterfall, strip down to my bathing suit—42-degree Fahrenheit outdoor temps and rain be damned—and dip into the heavenly water. I'm not sure how long I'm in there, but I know it's incredibly hard to lift myself out. After I do and quickly dress, I head into the reception area, which has the feel of a campground canteen. I am greeted by this sign: "Because thermal baths produce, besides wellness, hunger and thirst, we offer you fresh from our wood stove, some carefully prepared snacks." And it's there that I unexpectedly eat the best vegetable quiche I've ever had, made by the same two local women who take the entrance fee.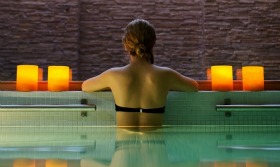 Many journeys to Chile start and wrap up in Santiago. Highly recommended is the newly opened Hotel Noi Vitacura. Its Spa Noi provides a serene break from adventures in this exciting, reemerging city (for informative tours and excursions, contact Santiago Adventures, who gave me a fascinating city overview at breakneck speed, because that's unfortunately all I had time for). After a treatment—highlights are its decadent chocolate milk bath and chocolate wrap—savor one of the hotel bar mixologist's ginger-infused twists on the pisco sour, made with the grape brandy found throughout Chile and Peru. You may make the same vow I did: I will cross hemispheres; I will be back again.            
Most recent from Editors' Picks