Happy Feet: The Canyon Ranch Healthy Feet™ Center
Published: Thursday, September 15th 2011
in Healing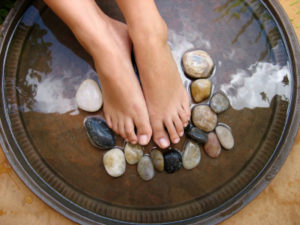 Whether you're a stiletto wearer or a sneakers sporter, a person takes an average of 3,000 to 4,000 steps every day.  Overused and under-appreciated, our tired tootsies can take a serious beating – which can ultimately lead to ailments like back, hip and knee pain.
The Canyon Ranch Healthy Feet™ initiative ensures that you take the right steps to secure healthy (and happy!) feet. The spa center, located adjacent to the Canyon Ranch SpaClub lobby at The Venetian and developed in partnership with Dr. Glenn Copeland, author of The Foot Book and The Foot Doctor, has put its own best foot forward by providing such therapies as gait analysis, orthotics and pampering treatments that are dedicated to advanced foot health and comfort.
Here are just a few of the services offered that we find perfect for soothing the soul, er, sole.
Gait Analysis
This service includes video analysis of your gait using a specially equipped treadmill, and a precise, computerized assessment of the biomechanics of your feet as you walk across an orthotics mat. It may also include a review and recommendations for orthotics, if indicated. (Off-the-shelf, custom orthotics are available and will fit most types of shoes.) (Note: This service is not appropriate for evaluating prescription orthotics you are already using.)
Fees vary, 25 minutes
All-Star Treatment for Athletes
An intensive service designed to release tight leg muscles, Achilles tendonitis and plantar fasciitis (heel or arch pain). This therapy may help improve circulation, break up adhesions and speed up the lymphatic system to facilitate quicker recovery. It also includes deep oscillation, which may reduce swelling, relieve pain and speed healing. (Note: Guests should wear shorts for this service.)
$245, 80 minutes
Healthy in Heels
If you often trade comfort for fashion, this treatment is for you. Your therapist will concentrate on your trouble zones using delightful herbal products, expert massage and gentle stretching to soothe and revitalize. Your feet will be happy and fashionable once again!
$150, 50 minutes
Canyon Ranch Signature Foot & Lower Rejuvenation
Take time to enjoy the ultimate in instant relief for feet from the effects of travel and too much standing. This luxurious service includes a warm herbal soak, followed by deep oscillation, and concludes with an extended foot and leg massage to leave you feeling like you're walking on air. (Notes: Guests should wear shorts for this service.)
$245, 80 minutes
Treatments are taken in a zero-gravity chair and use botanical products by Gehwol.
If you can't make it the Canyon Ranch SpaClub but need a renewed spring in your step, retreat to one of these spas in your area that feature rejuvenating foot and leg therapies on the menu.