Wraps, Scalp Treatments, Pedis & More – Deals on Hydrating Treatments During Wellness Week
Published: Tuesday, February 22nd 2011
---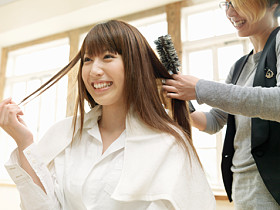 After one of the worst winters on record, it's not a shocker that your skin feels tight and is visibly dry.  But, it's not just your pretty face that needs hydrating TLC (however, we do have that covered here – top deals on hydrating facials during Wellness Week™)! Your tootsies, scalp and, well, your whole bod for that matter need some moisture.  Body wrap, anyone?  Whether you have a post-shower lotion routine or night time is the right time for lathering head to toe, nothing does the job like a spa treatment to quench your thirsty skin!  These unique hydrating treatments are being offered by our Wellness Week™ participants all across the country:
WEST COAST
Hydrating Deep Conditioning, Shampoo & Style – 75 min
Hydrate your hair with Amadeus Spa's deep conditioning treatment that will leave your hair smooth & fully revitalized for summer! Top it off with a shampoo & style from one of the spa's professional hairstylists! $90 Wellness Week™ price:  $50
Amadeus Spa, Pasadena, CA
Slimwrap body wrap Body wraps help with inch loss, detox, skin tightening, and cellulite reduction! This is not a dehydration wrap but a detox and hydrating wrap, as seen on Tyra, Ellen, Rachael Ray, Doctors and etc. $135 Wellness Week™ price: $67.50
LA Slim Wrap, Los Angeles
Bikini, Brow and Lip Wax Relaxing waxing rituals at Aveda use plant derived wax to soothe and hydrate the skin. $66 Wellness Week™ price: $50
Knox Salon & Spa, Los Angeles
75 minute Spa Manicure and Pedicure Relax and allow Sè San Diego to pamper your tired hands and feet with its luxurious spa manicure and pedicure.  You will be left feeling hydrated and rejuvenated. $90 Wellness Week™ price: $45
Sè San Diego, San Diego
Island Bliss Massage This nourishing blend absorbs quickly and will rejuvenate, replenish, hydrate and nourish your skin. Enjoy a traditional relaxation massage using Pure Fiji's Passionflower Exotic Massage Oil. $105 Wellness Week™ price:  $50
Oasis Spa & Salon, Woodinville, WA
EAST COAST
Moroccan Deep Conditioning Treatment with Haircut Melt tension away with our MoroccanOil Healthy Hydrating Treatment. This 10-minute service is followed by a haircut and blowout.
$70 Wellness Week™ price:  $50
Vito Mazza Salon & Day Spa, Woodbridge, NJ
Shampoo, Cut, & Blowdry MoroccanOil Mask Intense hydrating mask is a rich, creamy treatment, designed to hydrate and repair all types of hair, restoring shine and manageability.  $135 Wellness Week™ price:  $50
GC Salon & Spa, NYC
Pure Pearl Spa Pedicure Will soften skin, exfoliate away dead skin cells, and restore skin's silky texture with Pearl Sugar Scrub. Includes rehydrating mask, extra-long massage, finishing lotion, and Private VIP Room access. $80 Wellness Week™ price: $50
Fantastic Spa, Bellmore, New York
LED Photo Rejuvenation A scientific, holistic, & non-invasive approach to minimize fine lines & wrinkles. LED light promotes the production of collagen and elastin. Skin feels firmer and becomes more hydrated. $100 Wellness Week™ price:  $50
Frasada Salon & Day Spa, Oceanside, NY
SOUTH / MIDWEST
Hydrating Eye Contour Treatment Anti-wrinkle, anti-circle, anti-bag, smoothing, decongestant treatment. $55 Wellness Week™ price:  $50
Bellezza Spa, Salon, & Boutique, Miami
Spa Pedicure 75 minutes of pedi-pampering delight.  Spa Pedicure includes maintenance, exfoliation, massage of the feet and lower legs, scrub, hydrating mask, and polish. $65 Wellness Week™ price: $50
Firstspa, Pinehurst, NC
Harbor Beach Signature Citrus Pedicure Begins with an aromatic footbath containing citrus extracts, sea salts, and oil. Feet are thoroughly exfoliated, buffed, and softened, then drenched in ultra-hydrating mask and wrapped in warm towels. $60 Wellness Week™ price: $50
Marriott Harbor Beach Resort & Spa, Fort Lauderdale, FL
The Woodhouse Pedicure Begins with an organic cleansing and a stimulating massage, followed by a wild crafted ginger mask to hydrate, warm volcanic stones and reflexology. Ends with organic moisture cream and polish.  $80 Wellness Week™ price: $40
Woodhouse Day Spa, Plano, Texas
Four Seasons Signature Foot Ritual Mineral-infused essential oils inspired by your favorite season, followed by an herbal exfoliation, a rehydrating mask and a healing foot massage. Includes full nail maintenance and color. $75 Wellness Week™ price: $37.50
The Spa at Four Seasons Houston

Detoxifying Seaweed Wrap Our rejuvenating body treatment begins with a dry brushing technique, which exfoliates the skin and begins the detoxification and fluid reduction process. Includes a warm, hydrating mask. $120 Wellness Week™ price: $60
Woodhouse Day Spa, Cincinnati, OH