Spa in a Shanghai Minute: 1 Day, 3 Spas
Published: Monday, May 21st 2012
by Amy Sung
---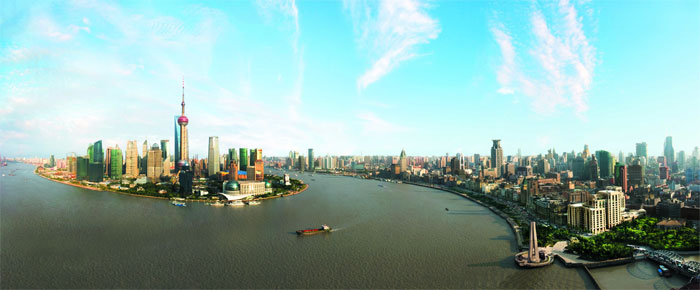 The largest city by population in China with a mind-boggling 23,000,000 people, Shanghai is among the most fast-paced destinations around the globe. Vibrant and cultured, travelers from all corners come to Shanghai, whether it be for tourism or business. Beyond being a global city with its hand in commerce, culture, finance, media, fashion, technology and transport, Shanghai also has a bevy of spa experience offerings, which I got to dip my toes in, albeit in the whirlwind of a Shanghai minute.
ESPA at the Peninsula Shanghai

Recently awarded the prestigious five stars by the Forbes Travel Guide's first-ever star awards in Shanghai, the Peninsula Shanghai hotel is among the best of the best. Conveniently located next to The Bund, the Peninsula Shanghai is elegantly luxurious with strong European decor influences, and touches of Chinese culture are sprinkled throughout. The spa is a crisp cream and dark wood adorns the treatment rooms, while the hotel rooms boast black marble floors, rich blue walls in the dressing areas and cream-colored furniture. Hotel rooms also feature a plethora of amenities that especially cater to the business traveler, with fax machines and printers available in every room, VOIP free international calls and triple-glazed glass windows for a good night's sleep. Impressive in-room technology also allows guests to dim lights, adjust humidity, check the weather outside and even dry your nails, among other things.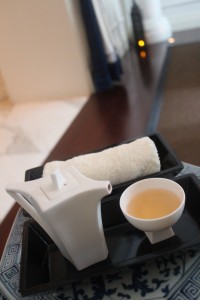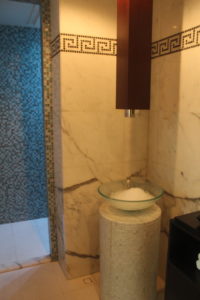 The Peninsula Spa by ESPA, voted the "Best Hotel Spa" in the SpaChina Awards 2011, is also the only Five-Star Spa in Shanghai. Unique to this ESPA, the Bamboo Harmoniser massage uses two different lengths of bamboo to stimulate the body's flow of energy with rolling and stroking movements. Beginning with a hot towel infused with essential oils and a cup of green tea with mint at check-in, I was asked to take my shoes off, place them on a tray, and slip on spa slippers as I made my way to the locker room. There, I made sure to use the locker room's amenities, which include a dry sauna, steam room, ice fountain and lifestyle shower – the four work together to provide guests with a cold-and-hot therapy experience before or after a treatment. The lifestyle shower was quite an interesting experience – also controlled by tech-driven buttons, guests can choose which kind of cold shower they'd like, ranging from a light "mist" to a "tropical" one with large water drops.
In the treatment room, I sat on a comfortable bench where a warm foot bath awaited and my therapist performed a ginger foot buff using mineral salts and a ginger scrub. We discussed my consultation card and she told me that, in line with what bamboo symbolizes in Chinese culture, she hoped that this massage will help to bring me luck and longevity. A full-body scrub preceded the massage, using first, a skin brush to promote circulation, then an aloe and peppermint exfoliant. After rinsing off in the adjacent shower room, I returned to the heated massage table for a muscle-relieving massage of rolling techniques and long strokes using two different lengths of bamboo. A pink mud scalp treatment was also offered, along with a glorious scalp massage. From the perfect spa ambience to the skilled technique to the quality of ESPA products used, everything included in the treatment was exquisite. But what really set this treatment apart from others in my experience was how not only attentive my therapist was, but how caring she was as well. Spas always talk about customized treatments, which this was, according to pressure and so on, but when my therapist saw that my eczema was acting up on my arms and legs, she asked if she could put a calming product on, which helped almost immediately; she even made some simple suggestions as to what I might eat more of to cool my body down (in Traditional Chinese Medicine, reactions in the skin mean there is an imbalance of hot and cold in your body).
I couldn't have asked for a better start to my day, or overall spa experience, for that matter. A full fitness center and pool are also available and a variety of yoga and Pilates classes (even quickie classes for business travelers that can be done in their business clothes!) are offered as well. The Peninsula Shanghai recently introduced new detox packages, which include a program of fitness classes, spa treatments and Naturally Peninsula cuisine. Find out more.
The Peninsula Shanghai | 32 Zhongshan Dong Yi Road, Shanghai 200002 | (86-21) 2327 2888 | Online reservations
Mandara Spa at J.W. Marriott Shanghai
Host to my first four-hands massage experience, Mandara Spa opened in 2003 as Mandara Spa Ventures Ltd.'s 40th spa in Asia. Located within the J.W. Marriot Shanghai in Tomorrow Square, Mandara Spa is heavily Thai influenced from its decor to its treatment offerings.

As I walked into the spa from the hotel's spacious lobby, I was greeted by wood accents and brightly colored couches and chairs. After filling out a consultation form and sipping on jasmine tea, the spa's welcome tea, which changes seasonally, I was led down a corridor to a double treatment room, equipped with a wooden Thai-style armoire, a small foyer that doubles as a sitting lounge, a private steam room, a deep stone bathtub, two massage tables and a restroom. I was told by my therapist to change into my robe, steam for as long as I liked and to ring the gong inside the armoire once I was ready. All therapists at Mandara Spa are trained by Thai therapists in order to provide guests with an authentic Thai experience.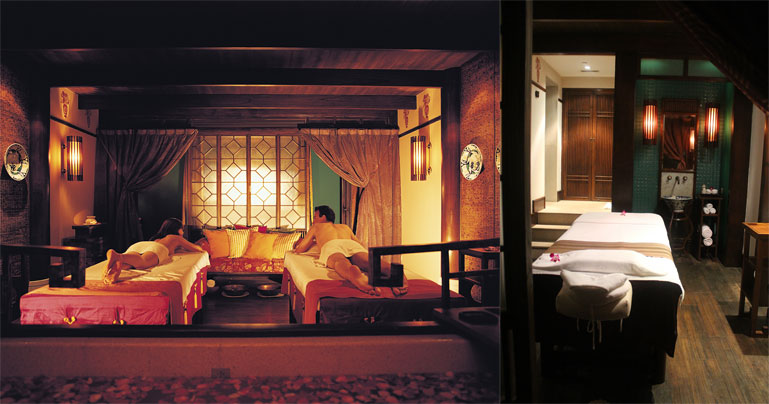 The treatment began with a foot cleansing ritual, after which I moved to the massage table. Once I was face down, the second therapist walked in and the massage began using sandalwood essential oil, which has hydrating and firming properties. As one therapist positioned herself at the head of the table, the other was at the foot. In unison, their hands touched my body and began long, soothing strokes that acted like a dance to the lively yet calming and rhythmic music that played in the background.
Throughout the massage, I would zone out, and at times, it would in fact feel like one person was massaging me. An interesting sensation, a four-hands massage should be experienced at least once in your life.
Mandara Spa at JW Marriott Shanghai | 6F, 399 Nanjing West Road, Shangai, China 200003 | (86-21) 5359 4969 | ms_jwms@minornet.com.cn
Anantara Spa at The PuLi Hotel

Meaning "beautiful unbroken jade" in Chinese, The PuLi Hotel and Spa resides in the central business district of Shanghai and is located between the famous NanJing West Road (where xiao long baos are said to have originated!) and YanAn Middle Road. While in the midst of it all, the hotel, also a Leading Hotel of the World, overlooks Jing'An Park, where beautiful tall trees and lush green grass provide the scene for relaxing family walks in the afternoon and the elderly practicing tai chi in the early morning. And, although the hotel is known as a large luxury urban resort that features 229 rooms, it manages to give off a specialty boutique hotel feel: A contemporary esthetic is fashioned by Australian and Indonesian designers, and beautiful Asian antique statues, furniture and decor, such as Shanghai brick walls and dragon screen room dividers in the hotel rooms, are sprinkled throughout.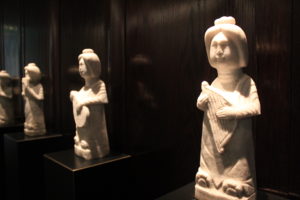 Anantara Spa, managed by MSPA International like Mandara Spa, features much of the same decor, but with less of a Thai feel and more of a Chinese one. Slightly larger in scale, but still a little cozier than Mandara Spa, Anantara's spa menu centers around four teas: detoxifying green tea, balancing white tea, beautifying rose tea and clarifying chrysanthemum tea. The Rose Tea package, popular with the ladies, is said to be good for beauty and balancing hormones, while the Chrysanthemum Tea package is said to be good for men as it cleanses the lungs and the liver. Green tea has calming and healing properties, and I opted for the White Tea treatments, known for anti-viral, anti-bacterial, anti-aging and balancing properties. Essentially gently dried, baby green tea leaves, white tea is only available in China, the spa director told me.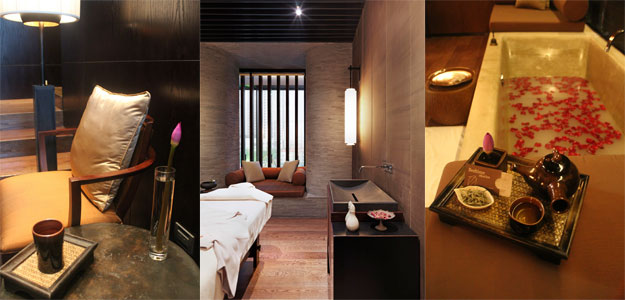 Much like the other treatments of the day, the experience began with a milk-and-honey foot bath ritual and a cup of chrysanthemum tea (one of my favorites!) to start. I was then directed to soak in the large stone bathtub filled with white tea oil-infused water and rose petals for 30 minutes. A timer and bell were provided in case I needed anything, and to signal that I was ready for the therapist, a gong was also used. Following the bath, an avocado body scrub designed for dry skin was extremely thorough and more massage-like than other scrubs I had experienced in the past, and an avocado body wrap and Anantara Signature Massage completed my spa night. I was given white tea to drink both during the bath and at the end of the treatment. At 190 minutes long, my Anantara Spa experience left my muscles relaxed, skin incredibly soft and my mind and body prepared for bed with the flight ahead of me in the morning seeming but a distant dream.
The PuLi Hotel and Spa | 1 Chande Road, Jing'An District, Shanghai 200040, China | (86-21-) 3203 9999 | Online reservations
Most recent from Editors' Picks