• GET RELAXED •
SWEDISH MASSAGE
When most people think of massage, they think of Swedish—and for good reason!
What is Swedish Massage?
Swedish massage is defined by four or five (somewhat familiar) techniques, which have French names: effleurage (stroking), petrissage (kneading), tapotement (rhythmic choppings), and friction (rubbing). Some therapists now incorporate advanced techniques that have rehabilitating effects and stretches for improving your range of motion. But the ultimate goal here is relaxation. As the default Western massage, Swedish massage is an extremely popular, simple, soothing touch therapy.
Types of swedish massage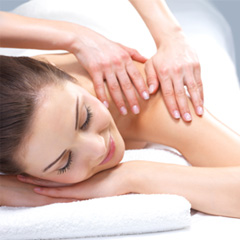 Know Before You Go
At most spas, Swedish massage is the most popular treatment, and it's for good reason. Perfect for first-time spa-goers, Swedish massage will help to release neck knots and soothe nerves. Traditional Swedish massage, or "classical massage," consists mainly of long strokes over oiled skin and kneading of the outer layers of muscle tissue to reduce stress and soothe sore joints and muscles. Studies have shown Swedish massage relaxes the nervous system, aids circulation, and helps with detoxification.