The Party Animal's Guide to Hiding a Holiday Hangover
Published: Monday, November 14th 2016
---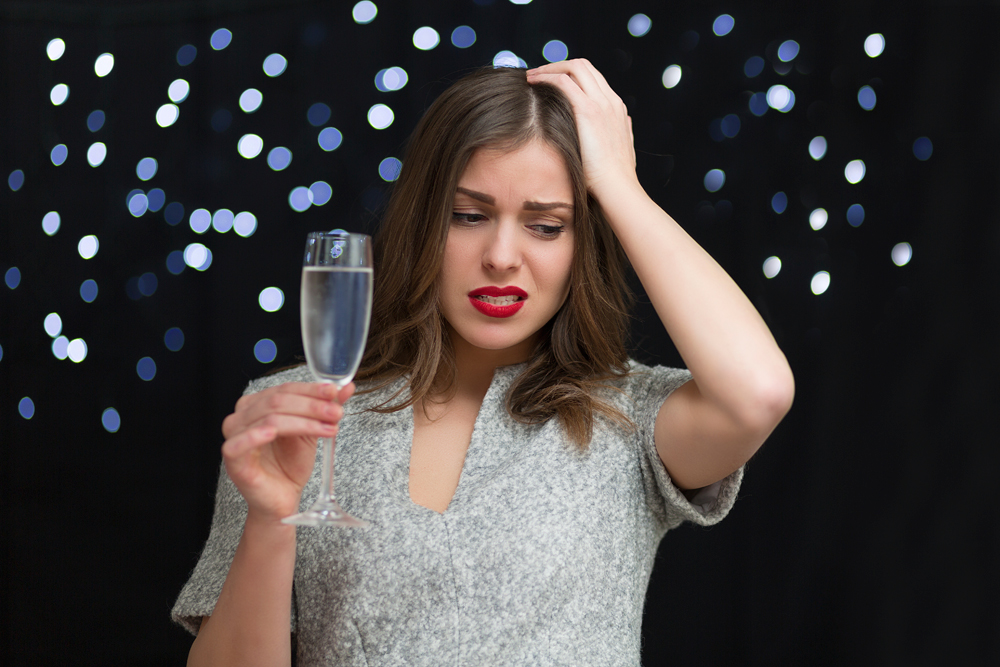 Eat, drink and be merry—that's pretty much everyone's motto during the holidays, and the opportunities to do just that are endless this time of year. But after a few late-night soirees with more than a few seasonal cocktails, we're all left looking far more fearful than cheerful. But not to fret—we're sharing our guide to hiding that holiday hangover, and note: it doesn't include the hair-of-the-dog method.
Hydrate, Hydrate, Hydrate
Anyway you shake it, the cocktail shaker we mean, whatever's inside is going to leave you needing a serious skin savior in the morning. Alcohol by nature dehydrates us, and so the most important thing to keep in mind after an extra-fun, extra-late night on the town is hydration.
Step 1 – Post-party, it's super important to drink your weight in water (we're exaggerating, but you get the idea!). Before you go to bed and the minute you wake up have a nice tall glass of water to start the re-hydration process. Skip the coffee, which will just dry you out even more and opt for ice water to revive you on days like this.
Step 2 – Moisturize like mad. You're going to need to bring out the big guns to hide a holiday hangover, and we currently love Cygalle's Raspberry Q10 Moisturizer. After washing your face before bed (and no excuse is good enough to "forget" this monumental skincare step), slather on some of this creamy hydration, which is rich in nutrients and antioxidants to repair cellular damage and revitalize super-dry skin. Repeat in the morning before your makeup routine.
Step 3 – Repeat Step 1 all day long.
Set a Good Foundation
Today's not the day for a matte finish—under the florescent bulbs of any office space it will only make you look that much more dried out and near death. Try creamy finishes and moisture-packed formulas.
Step 1 – It's prime-time. The start to any faked fresh face is a good moisturizing primer. One that's been in my makeup arsenal for some time is Smashbox Photo Finish Hydrating Primer—what started off as a sample at Sephora turned into a must-have for life. Thanks to Hydraplex, an extract from desert plants, this blend quenches skin and seals in moisture for hours.
Step 2 – Build a foundation. I'm pretty sure when I wrote my four fave foundations feature I had no clue that my "bang-for-your-buck" pick would be my favorite-ever, recommend-to-all-my-friends, forever-need pick. Rimmel London's Match Perfect Foundation comes in 16 shades, with SPF 15, and has a perfect creamy finish that leaves you looking like you have flawless skin, with or without a hangover hiding underneath it.
Step 3 – To finish off your look, add a highlighter to the apples of your cheeks and your brow bone (I'm a Benefit girl and prefer to use Watt's Up). This will reflect the light and give you a dewy angel face that no one would ever suspect of having one too many. Finally, spritz on some moisturizing makeup setting spray—try Fix+ by MAC; it's a great blend of vitamins and minerals that finishes your look and hydrates at the same time.
Fake It 'Til You Make It
Let's be honest, the only bags you want this holiday season are the designer ones that come wrapped in a box, tied with a bow and are tagged with your name. Send puffy, tired, party peepers packing with a great eye cream and a few make-up bag tricks.
Step 1 – De-puff and brighten with Repechage Eye Rescue Pads with Seaweed and Natural Tea Extracts. Packed with natural tea extracts and antioxidant polyphenols, these "10-minute vacation" pads for your eyes will tighten and tone puffy eyes and give the illusion of a 10-hour slumber.
Step 2 – Prep your peepers with primer. My go-to in tough situations when I know I need to have my under-eye baggage properly hidden is, and will likely always be, Benefit's Stay Don't Stray. The formula, which can basically be a concealer all on its own, acts as glue to keep your concealer from creasing and crawling throughout a day's work. Following a good prime, apply your concealer in a triangle shape  (starting at the inner corner, working down to the side of the nose and then up again diagonally to the outer corner).  This works to highlight your eye area and cheekbone to reflect the light and give a wide-awake appearance.
Step 3 – Lashes. Whether you swipe on layers of mascara or choose to glue on a full set, lashes immediately liven up tired eyes. Here's a secret for ladies who aren't so savvy with falsies—Revlon makes self-adhesive lashes that seriously stick, are gorgeous and natural looking and are really as easy as purchase, peel, put on.
While we can't guarantee any of these tricks will help you feel any better (well, with the exception of the heavy H2O chugging), we hope you are looking better already!