Interview with Celebrity Facialist, Thuyen Nguyen on Holistic Alternatives to Botox.
---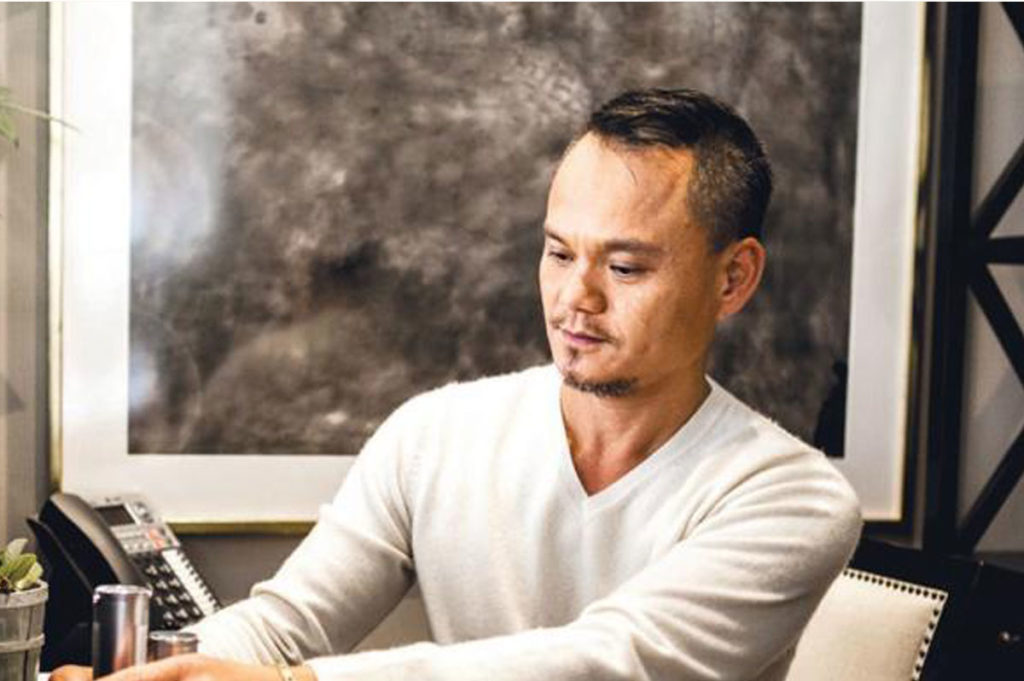 Judy Chapman had a one on one with Celebrity Facialist Thuyen Nguyen to discuss the landscape of facial rejuvenation – the holistic way!
Let me start by saying that I may have tried some non-invasive facial enhancements and for the most part, they delivered immediate results. However, I can't shake this niggling feeling that Botox and fillers are not really for me. Simply put, I don't love the long-term effects of these on myself – or others.
Which is why on a recent trip to New York, I just had to seek out the one and only Thuyen Nguyen, a New York-based 'celebrity facials' who first launched onto the scene as the Spa Creative Director in Robert De Niro's The Greenwich Hotel. Ahead of his time, Thuyen created his secret weapon, the 'FaceXercise' back in the days when we thought extractions were the game changer.
In a nutshell: I don't think there's anything like Thuyen's facials out there.
His philosophy 'Most of us need to work out 3-4 times a week to keep our body's skin toned and tight so the same applies to our face.'
Makes sense! His FaceXercise starts with a lymphatic drainage massage to detoxify your skin at a deep level. This is followed by a rather vigorous facial massage that is focused on lifting the cheeks, jawline and smoothing out fine lines in the forehead and around the eyes. The highpoint is the application of his unique Asian cupping method, where Thuyen uses an ancient cupping tool to further lift and tone the skin and facial muscles.
'Aging well is about strengthening the connective tissues that is the framework beneath the skin that results in a fuller face and lifted skin,' Thuyen explains, adding that regular facial massage is of the best ways to strengthen the connective tissue for optimum elasticity.
Yes, there are several machines in the market that are designed to do just this – but in this case, real, detailed touch makes a lasting impression. During my facial, for example, Thuyen is working to create muscle memory so the skin continues to lift, firm and tone. Recently featured in Vogue, Nguyen's approach to skin is gaining nationwide fame.
'It's all about looking better as you grow older'.
And it works. My skin actually looked more lifted the following days after my treatment. Not to mention, Thuyen's black book of regulars include Uma Thurman, Jennifer Anniston, Eva Mendes, Natalie Portman, Katy Perry and Jimmy Fallon – all of whom in my mind convey that inner glow and radiant energy. Little wonder Thuyen was named 'Best in New York' by Vogue in 2013.
The Product: While Thuyen's facials are less about the product (although the sensation of Thuyen's own fragrance-free cleansing balm and serums felt heavenly). His private organic line, 'Thuyen Pro' has remained only accessible to his client following but the good news is the cult brand will debut publicly at the end of 2017.
Where: Thuyen works out of his flagship FaceXercise Skin Fitness Spa in the Hamptons and Skin Studio loft in Tribeca. An LA hub is also in the horizon.
The cost: His instant lift facial workouts can be booked as 80, 50 or 25 minutes at US 490, 330 and 205 respectively – with the standard tax and 20% gratuity included.
Bookings: http://facexercisestudios.com