The Invisible Haircut: The Anti-Trend Hair Trimming Technique
---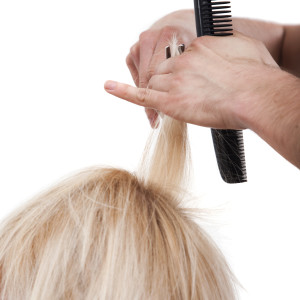 By Ashley Brozic
I've never not been a blonde. (Unless you count that one time I went rogue with an ashy brown wash. We don't speak of this period; those were dark days.) Likewise, I've never not had long hair. Maybe it's because I'm scared of change. More likely, it's because I'm lazy and prefer to only visit my hairdresser for touch ups — and twice a year, max. I make these biannual visits a treat: Hence, why I'm able to afford a splurge experience at Rossano Ferretti inside the lavish, no-expense-spared Faena Hotel Miami Beach.
It is here where I received my first "invisible" haircut with Emiliano De Pasqual, a celebrity stylist and maestro with scissors and a dye brush. De Pasqual made a name for himself working as a top stylist for Warren Tricomi in New York, and later in Miami. His hands have coiffed Miranda Kerr and Olivia Palermo while conducting behind-the-scenes magic at editorial shoots and runway shows.
Rossano Ferretti is renown for "The Method," a signature and patented technique that emphasizes minimalism for the sake of enhancing one's innate approach to beauty. The idea is simple: Rather than snipping strands bluntly and horizontally, practitioners of "The Method" at Ferretti's international salons will swiftly cut your hair at an angle, and always in the direction from which it naturally flows. Your hairstyle is not created but discovered. The technique has also been dubbed the "invisible haircut."
De Pasqual's spin on the invisible haircut is to trim the hair when it's dry: This way he can understand the unique characteristics of each strand. He also assesses your personality before he begins working, allowing for a targeted tress prescription.
"My approach to hair is to always try and understand my client's personality type instead of imposing trends and fads," De Pasqual says. "I prefer to amplify the natural beauty that is there already, instead of changing it."
And he means it. I came to De Pasqual six months before this visit touting a Pinterest board filled with snow white hairstyles, but he talked me out of the color change: I was diverted from what could have been a very expensive, damaging decision. It's not because I wouldn't look good as a walking embodiment of a monochromic lifeform ('pasty with a hint of peach' is one way to describe my skin tone); it's because he recognized my unruffled approach to beauty and knew I wouldn't have the patience to maintain the new do.
This time, I entered Rossano Ferretti's minimalist Miami Beach enclave and told De Pasqual to do as he pleased. Meanwhile, I relaxed and savored the salon's beachside view. He looks me over, compliments my eyes and then paints on a golden tone that he is certain will also complement my blues.
Once my hair is washed and blown out, he spends a few moments in analysis. "I don't want to take away too much, as your long hair has sex appeal," he tells me in an irresistible Italian accent. Within moments he's touching strands and bringing out the best of each piece, not in calculated snips, but in graceful strokes: He is engulfed in his craft.
I resurge from the chair, not as someone new, but as myself. And the best version of her, too.