3 Quick Ways To Give Your Feet A Sweet Retreat
Published: Wednesday, August 10th 2016
in Beauty
---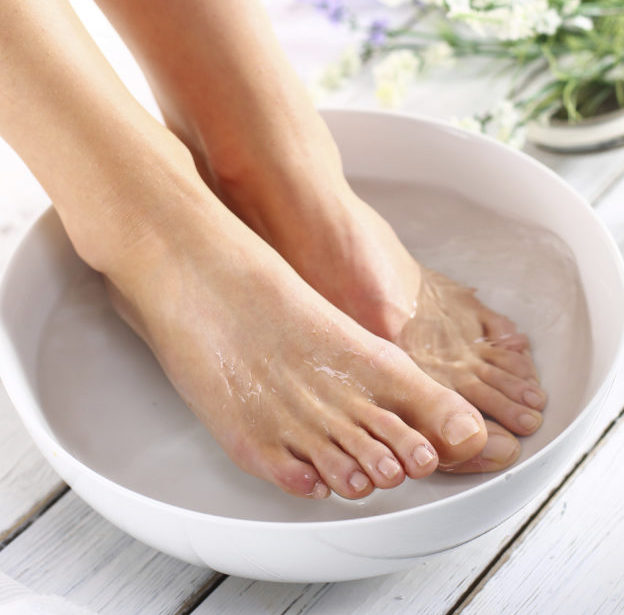 Curling our toes in the hot sand at the beach, slipping on those strappy sandals for a night on the town…we love the little luxuries the summer season brings, but come September, our once happy feet can be left feeling, well, not so happy. Give your worn out, tired tootsies a much-needed retreat with these three simple (and simply sweet) tips from Elizabeth Adam of Chicago's Elizabeth Adam Salon & Day Spa.  When you can't make it to the spa, her at-home remedies are good for the sole (sorry, we couldn't resist).
Soak your feet in Epson Salt daily. It contains magnesium sulfate, which is a known muscle relaxant.
Lie down, lift lower legs at 90-degree angle, and move feet up and down to drain excess water from feet. (This is great for swollen feet!)
Apply Avance Anti-Fluid Gel (it immediately cools to ease discomfort, reduces aches and pains, helps release excess fluids, and diminishes swelling).
And, if you do have the opportunity to visit Elizabeth Adam Salon & Day Spa, you can book the Foot Relief Treatment (30 mins; $60), aimed to alleviate pain and provide relief for tired feet via techniques like cryotherapy, massage, and stretching (though we think the magnesium muscle-relaxing soak sounds like the best part—high heel lovers, take note!).

Housed in Water Tower Place in ­­the heart of Chicago's Gold Coast, Elizabeth Adam Salon & Day Spa is steps from some of the city's museum, shopping, and dining hotspots. (As an added bonus, you can park your car in the attached underground garage at a discounted rate for up to 12 hours.) The Chicago spa is known for its myriad holistic services; it's even introduced treatments to Chicagoland like the ECHO2 Facial—more on that below!
Special Offer: ECHO2 Plus Oxygen Facial: Revitalize and protect your skin from sun damage with Elizabeth Adam Salon & Day Spa's famous ECHO2 Plus Oxygen Facial and bring instant radiance. Smooth the skin and reveal a brighter and even complexion. Original Price: $125 for 1 hour and 30 minutes. Actual Price: $94 (25% off)