When it Comes to Aging, Fat is Good
---
We spend so much time trying to get rid of it, or at least gain control of it, but according to NewBeauty, a fuller face is better when it comes to aging well in the face.
I've had a full face complex for years, which is just now starting to diminish. For a while (and sometimes still), I couldn't help but feel like my face took over the whole picture when smiling next to my slim-faced petite friends, or wish that a tiny bit of fat from my cheeks would just magically go away since no amount of diet or exercise ever changed it.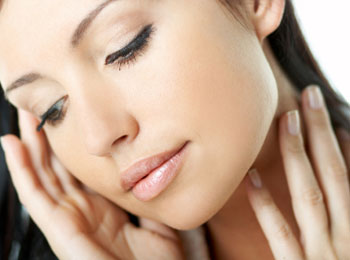 While diet and exercise never seemed to change my face, it can change that of others, and it's possible that those dieting for a skinnier face could actually be speeding up the aging process, NewBeauty says.
"Fat is what gives the face volume, and volume is the hallmark of youth," New York Plastic Surgeon Adam R. Kolker, M.D., told NewBeauty. Before the age of 40, facial fat begins to deplete, and, once this fat is lost, the face as a whole begins to descend and deflate, losing fullness and volume and creating a hollow, aged appearance. This is the reason why those seeking out a younger face through aesthetic treatments usually end up getting injectable fillers in key areas such as the lower face and cheeks.
HealthDay News also just published a story summarizing the findings of a study in the January issue of Plastic and Reconstructive Surgery, saying skin isn't the only thing that changes as you age, but your facial bones do, too.
"If you think of the facial bones as 'scaffolding' for facial tissue and skin, the bone loss can contribute to that drooping, deflated look, explained study author Dr. Robert Shaw Jr., chief resident in the division of plastic surgery at the University of Rochester Medical Center in Rochester, N.Y.," the article says.
And, while the most pronounced bone loss happened for men when they were 65 and older, the process starts earlier in women. Women's facial skeletons between 41 and 64 looked much different than their facial bones did between the ages of 20 and 40, according to the study.
As far as a timeline for facial fat, NewBeauty features an outline in its story, which appears in the latest Winter/Spring 2011 issue:
The Descent of Facial Fat
At birth: The face is round and full because of an abundance of fat that is evenly distributed.
20s: In the mid- to late 20s, facial fat starts to degrade, but not enough of it is lost that there is a significant difference.
30s: Around your early 30s, more fat is lost, causing the face to take on a heart or oval shape. There's more fullness in the cheeks, and the bottom part of the face near the chin is narrow.
40s: Starting in your 40s, fat is lost in the cheeks, which causes the midface to start to droop, producing jowling.
50s: By age 50, a good amount of fat has been lost, and the face resembles more of an inverted triangle or square shape – the upper face tapers outward at the cheeks and the bottom portion begins to widen, which both equate to an aged appearance.