Bat Your Lashes: Lash Extensions 101
Published: Monday, December 24th 2012
in Beauty
---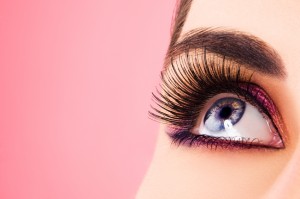 With more parties on our schedule than we know what to do with, it might be time to up the glam factor, and lash extensions are an easy and customizable way to wow.
We caught up with the "Lash Doctor" herself, Lora Condon, esthetician and author of Spa Wars, to get the lowdown on lashes.
What to Expect:
Eyepads are applied under the eye, covering your bottom lashes so they cannot be mistaken for your top lashes. "This also protects the under-eye, as well as gives a mini-eye treatment," Condon says.
Your lashes will then cleansed and dried to remove any makeup residue or oils.
"The extension is dipped in a special lash glue and applied one at a time, one extension to one lash," explains Condon.
This process is repeated until the desired amount of lashes has been applied. "A full set from all companies (and what look most women expect) is 65 to 70 lashes," Condon told us. "The artistry comes in when deciding how long and thick the lashes should be and where on the eye they should be applied to create a specific look, like a cat eye or bigger eyes."
The lashes cannot get wet for 24 to 48 hours, depending on the glue your technician used. "That means no steam, no water, no oil, no glycerine, no tanning, no sweating," Condon warns.
Don't play or pull on your new luscious lashes, or they will fall out much more quickly.
You should expect to get touch-ups every two to four weeks.
Know Before You Go: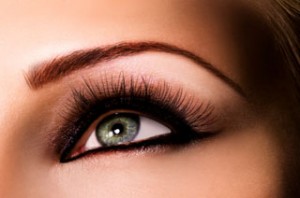 "While lash extensions can make life easier in many ways, there are definitely rules that need to be followed before and after application to ensure safety, as well as long-lasting lashes," Condon tells us. It's important to come in with no makeup, and especially no mascara. Contact lenses should be removed prior to application but can be put back in right after. "It's best to buy the makeup remover and face wash from the lash extension company since that will help the lashes last longer," suggests Condon.
Professional Tip: "Get the lashes done in the morning so the glue has a few more hours to dry before sleeping. Sleeping on your side or face will make lashes fall out quicker, due to contact."
Note: If you've had chemotherapy or have been taking post-chemo drugs, you should wait six months to a year before going for extensions. Chemotherapy and post-chemo drugs "stop the glue from sticking to the lashes," explains Condon. Also, if you are an avid swimmer, you will likely lose you lashes more quickly.
Warnings:
"Do not let anyone put cluster lashes on you," Condon warns. "When cluster lashes fall out, you have a big hole because the cluster was attached to a few lashes, not just one."
Always do a check to make sure the technician is certified by a lash company; don't just take his or her word for it, Condon says. Always get referrals from friends or search lash companies online and go to their certified stylist listing.
"The dramatically cheap lash prices for a full set are that cheap for a reason," Condon continues. If it seems too good to be true, it probably is. "[A lot of cheaper places] tend to use Crazy Glue! I've seen it before and it's so damaging to the lashes." Terrifying!
In the New York/New Jersey area and want to visit the Lash Doctor at her spa? Magic Hands Skin & Body Spa has a location in Manhattan and Westfield, New Jersey, open seven days a week.
Not in the area? Check out SpaFinder® Wellness' listing of spas providing lash extensions! Be sure to come back and tell us how you're loving them!
You might also like:
Attention, Party Animals: Your Guide to Hiding a Holiday Hangover
Holiday Gift Guide for Everyone on Your List
Think Inside the Box this Holiday Season: SpaFinder Wellness Gift Boxes