The Beauty Benefits of Pulling Oil
Published: Wednesday, June 24th 2015
in Beauty
---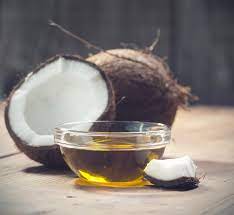 Pulling oils, specifically coconut oil, has been popular for years, in fact, the practice derives from ancient Ayurveda rituals. The act of pulling requires you to essentially swish the oil around in your mouth, pulling it through you teeth, as you would mouthwash, for five to 20 minutes and then spitting it out. Known for its ability to remove toxins from the body and increase energy, oil pulling also has tremendous beauty benefits! Routinely pulling oil can help to clear skin and more notably, remove bacteria from the mouth and even whiten teeth.
You can pick up a jar of virgin coconut oil from the grocery store (I get mine from Trader Joe's) and scoop out a tablespoon of the hardened oil and place in your mouth. Initially the "oil" will be hard and will slowly melt in the warm environment that is your mouth – another reason the mouth is the perfect gathering place for the bacteria the oil will attract and pull away. Pulling takes time to feel normal, the first time I attempted the practice I barely got through 5 minutes without gagging and wanting to spit it out immediately. But after some time, I got used to the process of pulling and now really love it, though I still can't go for 20 minutes! Be sure to swish the oil around gently, it's not an aggressive process and once you've finished pulling, spit out into a garbage can and not into your sink (the oil can re-harden and clog your drains!). Be sure not to swallow, as all the bacteria will go right back into your system. Rinse well and then brush as you would normally!
In recent months these teeth whitening benefits have made pulling oil even more popular than ever before, with celebs with massive social media followings like Kylie Jenner, Lindsay Lohan, Shemar Moore, Bella Thorne, and more showcasing their love of a product that makes pulling a breeze: CocoWhite. Available in convenient one-use pouches, the product promises pearly whites in just 14 days! Why not just use a tablepoon of coconut oil from the store? CocoWhite offers up flavors like Light Lemon, Vanilla Swirl, and Minty Fresh and an assorted pack of flavors with 14 pouches can be purchased for $31.46.
Have you ever tried pulling oil? What do you think?