Beauty for a Cause: Breast Cancer Awareness Products 2011
---
October is Breast Cancer Awareness Month and we love how many beauty companies are getting involved! While there are many more products supporting the cause than listed below, here are a few companies supporting a variety of BCA programs that we caught wind of and wanted to spread the word about.
DECLÉOR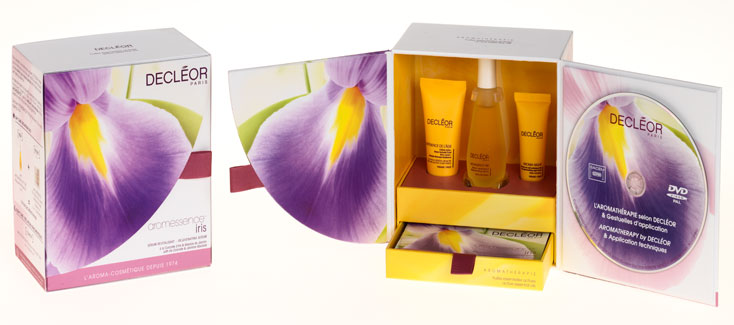 DECLÉOR has launched DECLÉOR Cares for the month of October to support Cancer & Careers, a program of Cosmetic Executive Women Foundation for the fifth consecutive year. DECLÉOR will donate 10% of the net proceeds of its Aroma Coffrets sold during the month of October. We love how these kits offer a complete skincare regimen adapted by skin concern: Hydrating, Soothing, Nourishing and Anti-Aging. Each set features a full retail size Aromessence™ Serum and complimentary Day Cream and Night Balm in travel sizes, each set will also come complete with an informational DVD that provides details on the sourcing of essential oils, the creation of Aromessence™ and the application techniques of DECLÉOR'S signature serums.
Find your coffret (and purchase it here), save $22 off the retail value, and best yet, contribute to a great cause:
Neroli Hydrating Aroma Coffret, SRP: $68
Rose D'Orient Soothing Aroma Coffret, SRP: $68
Angelique Nourishing Aroma Coffret, SRP: $68
Iris Anti-Aging Aroma Coffret, SRP: $84
TOCCA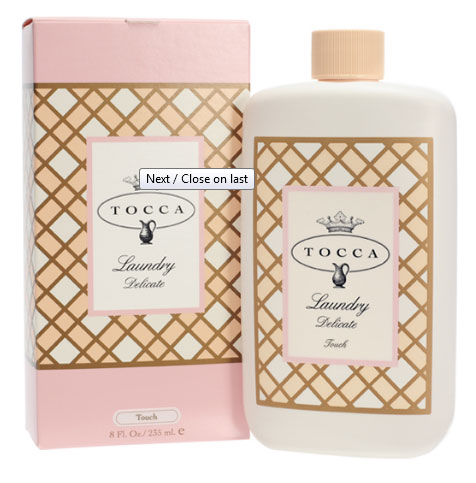 In line with the spa-like lifestyle, Tocca has a special laundry detergent to keep your delicates looking just that – delicate. During the month of October, TOCCA will be donating 15% of its Laundry Delicate collection to Living Beyond Breast Cancer. We adore the cute packaging, the scent of pomegranate tiare flower, and how it gives your special delicates the caring treatment they deserve. Use it on your lingerie, hosiery, intimate apparel, silks, cashmeres and bed linens either via hand-wash or the  delicate cycle on your washing machine. TOCCA Laundry Delicate Collection, $15.
Sothy's Beauty Garden
We tried out a few products in the Beauty Garden® line and were pleasantly surprised. Not only do the products work and smell divine, the line is Ecocert® Certified, guaranteeing natural and safe cosmetics containing ingredients from organic agriculture. The collection also carries the Cosmebio® certification, which is the highest level of certification available for skincare products.
In support of teens with cancer, the luxury spa brand is donating 10% of sales from each product in the organic skin care collection to A Prom to Remember. For six weeks beginning October 1st, the certified skin care collection will be supporting this effort, which gives teens with cancer the ultimate prom experience and to celebrate their life and their youth in an environment of acceptance and camaraderie. It includes limousine transportation, formal attire and a red carpet entrance at no expense to the teens and their families.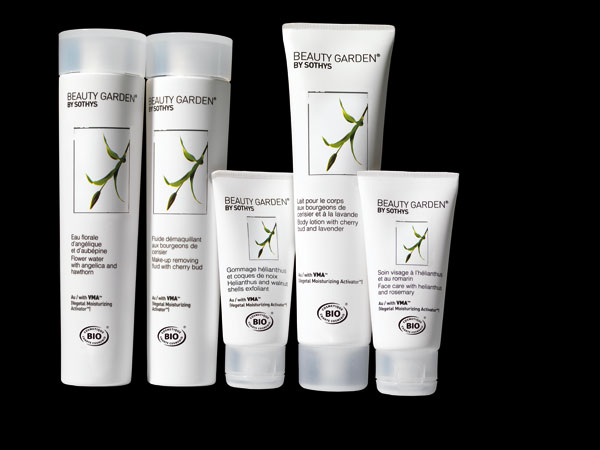 Give one or all of these great products a try. Available October 1st through November 14th. Visit www.sothys-usa.com for spa and salon locations.
Make-Up Removing Fluid with Cherry Bud; $32
Floral Water with Angelica and Hawthorn; $32
Comfort Mask with Helianthus and Rosemary; $36
Face Care with Helianthus and Rosemary; $54
Body lotion with Cherry Bud and Lavender; $37
Helianthus and Walnut Shell Scrub; $36
Nourishing Body Oil with Helianthus; $49
NuFACE
NuFACE has partnered with the Look Good…Feel Better program with the creation of the pink NuFACE device to support awareness and raise funds. A renowned esthetician, NuFACE founder Carol Cole has also been a breast cancer survivor for

over 13 years and is deeply committed to ensuring that all women have access to appropriate testing and information that can help win the fight against this disease. NuFACE will donate $2 to Look Good…Feel Better from the sale of each pink NuFACE device in October and throughout 2010. NuFACE limited edition Pink Kit is available through October 31st for $249.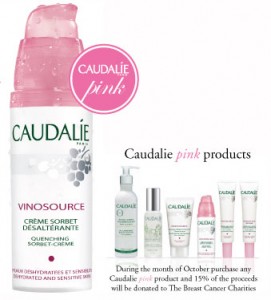 Caudalie
For the month of October, the world-famous vinotherapy brand Caudalie is donating 15% of proceeds from six "pink products" to Breast Cancer Charities of America, a charity that promotes integrated care and aid to those who are uninsured and in need.  Not only are Caudalie products are free of parabens, phenoxyethanol, mineral oil, artificial colorings and sodium laureth sulfate, no ingredients of animal origin are used either. Caudalie's "pink products" include the Caudalie Beauty Elixir ($46), Nourishing Body Lotion ($36), Vinosource Quenching Sorbet-Crème($40), Vinosource Moisturizing Cream-Mask ($40), Vinosource Anti-Wrinkle Nourishing Cream ($49), Anti-Wrinkle Ultra-Nourishing Cream ($50), and can be purchased at www.caudalie-usa.com.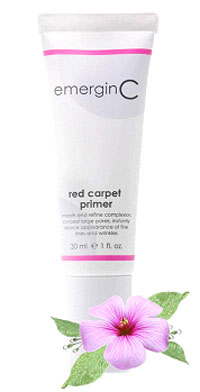 emerginC
To keep your best face on, try emerginC's Red Carpet Primer, a naturally-tinted formulation contains advanced, plant-based hydrating and plumping micro-spheres to help fill in wrinkles and fine lines and conceal pores.  This October, emerginC will donate 20% of proceeds from the sale of red carpet primer to Susan G. Komen for the Cure. emerginC Red Carpet Primer, $44.
Related:
Pink Treatments: Spas Support Breast Cancer Awareness!
Breast Cancer Awareness Recipe: Cal-a-Vie's Blueberry Mousse
Spa Product of the Week: SpaRitual In Pink Collection 2011