Beauty Tips for the Bride-to-Be
Published: Thursday, August 9th 2012
in Beauty
---
Calling all blushing brides – we've rounded up some top beauty tips and must-have treatments for the big day! Check out what some of our experts are saying and get ready to wow at your vows.
Flash Those Pearly Whites
Nothing ruins wedding photos quite as much as yellow teeth (or worse, no smiling at all). Before walking down the aisle, think about getting your smile whitened either at a spa, dentist or at home. Many SpaFinder partners have teeth whitening on the menu and having a professional do it means fast and lasting results that will have you shining bright!
A tip from us: Want to whiten at home? Check out Crest 3D White Intensive Professional Effects Whitestrips. After just one treatment you will see results! $59.99 at Walgreens
Embrace Your Beauty
As a bride-to-be, when I first met with my hair and makeup people I had one request, I want to look like myself, but better. Collier Strong, celebrity makeup artist of Project Runway fame, believes the same thing. In the debut webisode series featuring secrets for Red Carpet Radiance on special occasions, Collier shares his tips for embracing your look and putting your best face forward on your wedding day. "Take your ordinary to extraordinary and don't do anything so radical that you won't recognize yourself in the photos," suggests Collier.
[youtube]http://youtu.be/B-TtmX-GHFc[/youtube]
A tip from us: Keep your makeup fresh all night with Skindinavia makeup finishes! Just eight sprays of the Bridal Makeup Finish after your makeup application lasts long through "dancing, tears and humidity." $29 from skindinavia.com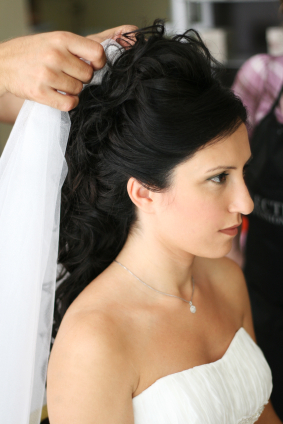 The Mane Event
Zahir Ziani, the national creative director at Elizabeth Arden Red Door Spa & Salon and my personal favorite for getting my hair done gives tips for luscious locks on your special day.
Choose a professional hairstylist for the big day
Do your research – bring along hairstyle pictures so your stylist can emulate your inspiration
Choose a hairstyle according to the shape of your face
Your hairstyle must fit your outfit, not vice versa. Choose a wedding dress before your hair trial
Test your hairstyle
Wash your hair the night before, not the day of (this way your curls will stay!)
A tip from us: Make sure you bring along a flat iron, curling iron, hairspray and dry shampoo of your own just in case you need a few last-minute touch-ups.
Bat Your Lashes
Hair and makeup are just the start of "turning the ordinary, extraordinary." For some added wow factor, opt for lash extensions – many of our SpaFinder Wellness partners offer this glambitious service, which is custom-tailored to suit your eye shape and personality. Best part? Kiss mascara tears goodbye – with lash extensions there is no need for even a swipe of mascara, which leaves you free to tear (or cry hysterically like some of us!) at the mere mention of "I do."
Relax & Enjoy the Moment
From massage to manicures, the spa is a perfect place to relax and unwind either solo or with your girls before the big day. Treat yourself to a rejuvenating day at the spa at any of SpaFinder Wellness' Partners.
Best wishes and congratulations on your big day from SpaFinder Wellness!
You might also be interested in:
Gather Your Gals for a Bachelorette Party Atlantic City Style
5 Vegas Spas for Bachelorettes to Relax and Celebrate
Cal-a-Vie's Crème de la Crème of Wedding Plans
Top Spas for Bridal/Bachelorette Getaways
A Bachelorette Party…Without the Hangover
Bachelorette Spa Getaways, Bridal Boot Camp and Planning Tips