Discover Courteney Cox's Anti-Aging Secrets
---
A lot has happened since the Friends show has been off the air: Jennifer Aniston and Brad Pitt tied the knot…and split, and Courteney Cox and David Arquette tied the knot…then split. With all of the stress and pressure that Hollywood puts on celebs' love lives, it's a wonder how Courteney Cox manages to keep up her looks without straying too far from her youthful Friends days.
Dr. Bruce Katz of the JUVA Skin & Laser Center in New York shared his thoughts on how he suspects she has managed to defy the hands of time and remain one of Hollywood's best kept faces.
"Courteney's face looks ageless due to the fact she has maintained her original facial symmetry and simply enhanced certain areas to fight skin sagging and wrinkles," Dr. Katz says.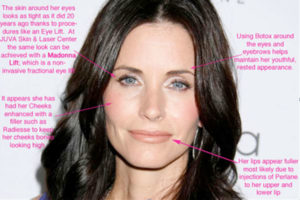 The skin around her eyes looks as tight as it did 20 years ago thanks to procedures like an eye lift. At JUVA Skin & Laser Center, the same look can be achieved with a Madonna Lift, which is a non-invasive fractional eye lift
It appears she has had her cheeks enhanced with a filler such as Restylane to keep her cheekbones looking high.
Using Botox around the eyes and eyebrows helps maintain her youthful, rested appearance.
Her lips appear fuller, most likely due to injections of Perlane to her upper and lower lip.
How do you think Courteney looks? Would you get these treatments?