Earth Friendly Spotlight: SpaRitual
Published: Friday, April 20th 2012
in Beauty
---
It's no secret we here at SpaFinder love SpaRitual nail polishes and their new Spring/Summer 2012 collection may just take the cake!
Inspired by earth's precious resources, SpaRitual has created the Pigment, Gold and Soil collections just in time for Earth Day. Founded by Shel Pink, the brand fuses together mind, body and spirit in its philosophy of Slow Beauty. The natural nail polish formula sources vegan, certified organic and fair trade ingredients and is free is toluene, formaldehyde, formaldehyde resin and DBP.
SOIL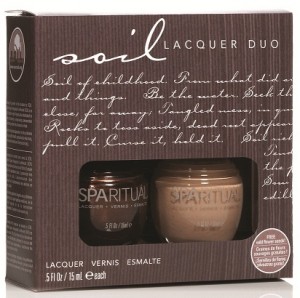 Outside of being an eco-friendly product line, SpaRitual is a line that gives back to the planet that so inspires it. In celebration of Earth Day 2012, SpaRitual is introducing Soil 2012, a limited edition lacquer duo, which donates 20 percent of its sales to Sustainable Organic Integrated Livelihoods (SOIL) in Haiti.
SOIL is a non-profit organization co-founded by Dr. Sasha Kramer that works to create relationships between community organizations in Haiti and activists and academics internationally in order to promote problem-solving approaches to poverty, poor public health, agricultural productivity and environmental destruction.
The soil-inspired duo includes Back to Your Roots, a shimmering deep rusty brown, and Native Soil, a light earthy cream. The polishes are packaged in a gift box along with a packet of wild flower seeds and a poem by Shel Pink to encourage eco-consciousness throughout the year.
"We're honored to be involved with the SOIL organization, and to support the foundation's efforts to help provide agricultural and economic resources to Haiti. Earth Day is an annual reminder of how precious our resources are and how committed we are to environmental conservation,'' says Shel Pink.
The Soil Duo retails for $20.00 in select salons and spas nationwide as well as select online retailers.
PIGMENT and GOLD
In addition to Soil 2012, SpaRitual will release its Summer 2012 collections: Pigment and Gold. Pigment is a "celebration of collective cultures and rituals that have encompassed the use of pigments" naturally occurring in nature. The shades are all jewel or berry-toned and have an excellent cream finish. "Adhere to an age old ritual of self-adornment. Celebrate color, embrace Pigment and express your vitality," says Shel Pink. Pigment will be available starting May 1, 2012, for $10 each and includes:

Henna – earth berry
Camellia – deep pink
Heliotrope – purple
Indigo – teal blue
Poppy – orange-red
Clay – earth Clay
The special edition Gold collection is infused with real 24 karat gold particles, which give off a natural shimmer, perfect for summer! ''Spread your inner light with SpaRitual's special edition collection, GOLD, as you embrace the symbol of mental growth and general well-being,'' urges Shel Pink. Gold will be available starting May 1, 2012 for $12 each and includes:

Gilded Age – rose gold
Alchemy – white gold
Aurum – pure gold
Electrum – golden khaki
Conduit – copper hued
Rusted Lux – golden terracotta.
You can pick up your SpaRitual lacquers at fine salons and spas, including Spa Halekulani, Canyon Ranch, and the Mandarin Oriental.