Glam Gams for Summer: DIY Honey Banana Leg Mask
---
Whether you're prancing on the beach or strutting in the city, glam your gams for summer with a natural beauty mask for legs that you can make at home. This recipe comes from Cinthya Alva, spa director at Viceroy Riviera Maya in Playa del Carmen, Mexico, where the beach is right at your doorstep, and good-looking legs are a must.
"Legs that truly wow demand more than a daily workout and a good tan," Alva says. "If your skin isn't smooth, the tan won't be even. What's more, the skin of your legs is often difficult to maintain; usually, it is drier than other parts of the body, and legs are not moisturized as often or as effectively as arms and hands. Ankles and knees can be especially troublesome."
Give this delicious-sounding, but non-edible, recipe a try to remedy dry skin: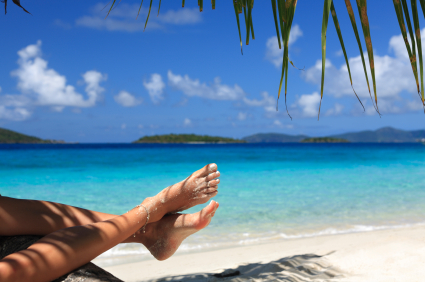 Ingredients:

1 tbsp almond or avocado oil
1 tbsp Shea oil
1 banana
1 tbsp honey
3 drops of peppermint oil
4 tbsp unscented body lotion
Instructions:
1.  Crush the banana with a fork until well mashed. Place in a bowl, add remaining ingredients and stir until well blended.
2.  In the shower, before turning the water on, apply the mixture to your legs, covering everything from ankles to knees. Keep your legs raised for 10 minutes, then rinse with warm water.
3.  Head to the beach and don't bury your legs in the sand!
Give these other DIY spa recipes a try to get healthy skin for summer!
Anti-Aging Yogurt & Honey Facial
Nourishing Hand & Foot Sugar Scrub
Food Face: DIY Firming Avocado/Cucumber Masque
Ritz-Carlton, Dove Mountain's Brown Sugar Scrub
At-Home Recipes to Soothe Sunburned Summer Skin
Simple Rosemary Citrus Body Polish
Rancho La Puerta Recipes: Masks for Every Skin Type

The Viceroy Riviera Maya is a serene hideaway of sugary-white sands lapped by the warm Caribbean and a jungle ambience of ferns, palms and guava trees. The resort merges every luxury amenity with dramatic sea and jungle, bringing together the best of the destination.