Laser Alternatives with eTWO Skin Rejuvenation
Published: Wednesday, December 14th 2011
in Beauty
---
Smooth, beautiful skin is something all of us aspire to have, but unfortunately aging, hormones and genes sometimes make it a lofty goal and one that some people may seek out laser treatments to achieve. Because not everyone can take a week off to recover from something like ablative fractional skin resurfacing laser treatments (one of the main treatment choices when it comes to treating severe acne scarring or deep wrinkles, up until now), new non-ablative skin resurfacing treatments have been created. To delve deeper into these innovative new treatments, I spoke with Dr. Michael Gold of Gold Skin Care Center in Nashville, Tennessee.
To explain and understand the new non-ablative treatments, it helps to understand how the original ablative fractional skin resurfacing laser treatments, such as Fraxel, Lumenis Bridge, Palomar and Erbium, work. Targeting thousands of microscopic channels in the skin, which are surrounded by untreated skin, collagen is produced, plumping the skin and smoothing out wrinkles and scars. Meanwhile, the untreated skin stimulates the body's innate healing process. While incredibly effective in treating skin irregularities, fractional laser treatments leave patients needing at least seven days of downtime recovery.
Dr. Gold filled me in on an incredible device, which re-surfaces the skin with little to no downtime – the eTWO. The eTWO device, developed by Syneron, offers a new, non-ablative way to rejuvenate skin to treat wrinkles or scars while simultaneously tightening the skin.  In combining two of their other FDA-approved Sublime™ and Sublative™ applications, a "comprehensive facial rejuvenation" experience is created with minimal downtime: two to three hours with the max of a day or two. This major advantage, Dr. Gold says, makes it the "go-to machine for people in the real world who can't have a lot of downtime."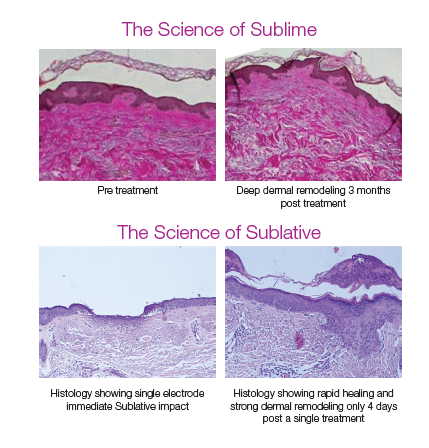 Sublime uses a combination of infrared light and bi-polar radio frequency to provide deep dermal heating to improve wrinkles and facial contour. The Sublative, also known as the eMatrix, which Dr. Gold has been using for the last three years, delivers bi-polar frequency energy to initiate a strong wound-healing response that smoothes the skin but does not damage it as other traditional laser treatments can. One of the other main advantages to using this device is the ability to customize the delivery, Dr. Gold says. "Think of an ice cream cone, upside down, that's how it's delivered to the skin. I can customize it versus a laser beam which is straight down."  Other beneficial aspects to this treatment include the fact that it's an excellent option for patients of color, its quick – typically 20 to 40 minutes depending on the area treated and it requires a short treatment protocol – three treatments spaced a month apart.
Given the choice, and based on the severity of the skin irregularity, most dermatologists will still opt for ablative treatments if the time doesn't matter, Dr. Gold admitted, but added that it's great to know that for those of us who don't have the time to wait and recover, there are effective options like eTWO out there.