The Bare Essentials of Laser Hair Removal
Published: Thursday, March 11th 2010
in Beauty
---
By: Megan Huffnagle
Deep breath.  It's only hair, right? It will grow back (not that I want it to in the least).

Today was my first time receiving a laser hair removal treatment. I had researched laser hair removal at various Manhattan spas, reading reviews and comparing costs, which can be pricey. So when $50 spa treatments came around through SpaFinder Deal Days, I thought I'd try a particularly well-reviewed, participating spa that was offering a fantastic laser hair removal package.  Close to my office (an added bonus!), Skintology Laser Hair Removal Day Spa is offering a $50 price tag for hair removal on any two areas including underarms– the exact area I wanted hairless!

Walking to Skintology on the nicest day in Manhattan in months, helped lift my anxious spirits and remind me why I was getting hair removal in the first place–spring is near!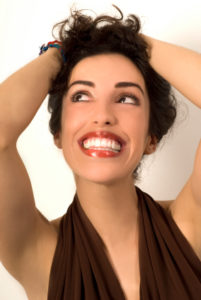 A very welcoming receptionist had me fill out a new client form, inquiring about my concerns and current medications. Once completed, Yana, my technician, escorted me to the treatment room. I was nervous, but Yana's pep talk helped calm my fears. She explained the process of laser hair removal, what to expect afterwards, and when I should come back for the next session. I signed a consent form, and then it was time to get rid of some hair.

I removed my itchy sweater and put on the protective eyewear provided while Yana applied an anesthetic to my underarms. Here it comes. I hold my breath and brace for pain. Then I begin to feel very light, very mild pinches, sort of like tweezing. I open my eyes.

"This isn't bad at all," I tell Yana.

"No, you see not bad at all. In fact this arm is already done," Yana said.

On to the next underarm which, for some reason, was a bit more sensitive than the right, though still not nearly as painful as I had anticipated. In fact, it wasn't painful at all. The next thing I knew, my underarms were bare, all under what seemed to be 10 minutes.

Yana advised me not to apply deodorant for the rest of the day (so, no gym tonight) and to use a very soft, non-gel deodorant tomorrow. She recommended that she see me again in a minimum of four weeks, but strongly encouraged waiting six to eight weeks for my next session. Luckily, Skintology's Laser Spa offers amazing laser hair removal packages–in fact, when you purchase six sessions you receive one free!

It's safe to say that I'll be returning to Skintology for my future laser hair removal needs. The experience was not only positive, but virtually painless. If you're considering laser hair removal, I recommend researching the spa, looking into the laser services offered, and to read reviews on SpaFinder.com. Keep in mind if you want laser hair removal on an area that will be in the sun, schedule your appointment soon–spring and summer are around the corner!


See below for more information on the Deal Days promotions at Skintology: Laser Hair Removal Day Spa NYC
Fruit Sauffle Facial – $50
Laser Hair Removal- lip, chin, underarms, stomach – $50
Find SpaFinder Deal Days spas and promotions near you! Just enter your email plus city or zip code.