Melanoma Awareness Month: Reduce Your Risk
Published: Tuesday, May 14th 2013
in Beauty
---
May is Melanoma Awareness Month, a cause that's very near and dear to our hearts here at SpaFinder Wellness. Accounting for 75 percent of deaths from skin cancer each year, melanoma is the most dangerous form of skin cancer – but one that rarely strikes without a warning sign. Read on to discover the ABCDE's of melanoma (thanks to the Skin Cancer Foundation) and discover products that you can use to reduce your risk and to help give back to this worthy cause!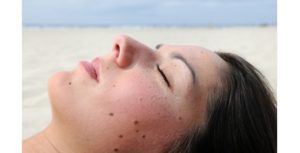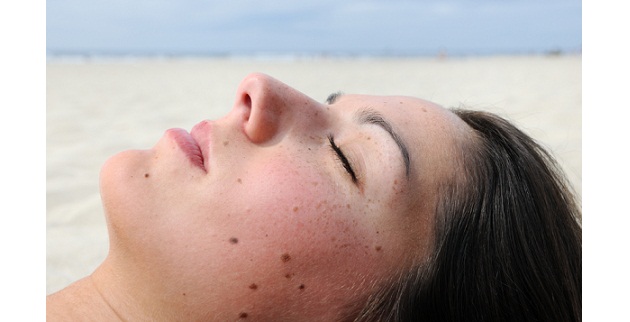 Because melanoma rarely strikes without warning signs early detection can help save your life! Regular skin checks are a great way to detect the cancer in its early stages. Moles, brown spots, and growths are not always just harmless marks on the skin. If you have more than 100 moles on your body, you are at a greater risk and should definitely read on!
Using the first five letters of the alphabet, the Skin Cancer Foundation devised an easy way to guide us through the early warning signs of the cancer.
A – Asymmetry (if you draw a line through the mole the two sides won't match)
B – Border (early melanoma moles have uneven edges)
C – Color (a variety of colors or shades of brown, tan or black is a warning sign; melanoma can also turn red, blue or some other abnormal color)
D – Diameter (melanoma is usually larger in diameter than the size of a pencil's eraser – ¼ inch – but they may also be smaller when first detected)
E – Evolving (any change in size, shape, color, elevation or other trait – new symptom such as bleeding, itching or crusting – is a major red flag)
Protect and Prevent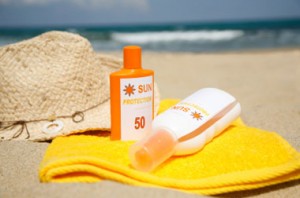 According to the Skin Cancer Foundation, "melanoma may be triggered by intense, intermittent sun exposure." In the past 20 years, the number of melanoma cases has nearly tripled thanks to more time enjoying outdoor activities with less clothing and less sun protection, as well as the millions of Americans who visit indoor tanning salons regularly. Protect yourself! When you are in the sun, wear appropriate clothing, cover your head with a wide-brimmed hat (the head and neck are some of the most commonly overlooked places), wear sunglasses and ALWAYS put on sunscreen with an SPF of 15 or greater. Limit your sun exposure between the hours of 10 a.m. and 4 p.m., and by all means, forever avoid tanning beds. If a dark tan is a must, invest in self-tanners or go for a spray tan. Also, new research has shown that Vitamin A may lower the risk of melanoma, so don't shy away from taking a multi-vitamin!
Above all never leave home without SPF!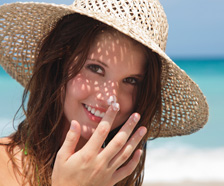 SPF is not just something to slather on during a day at the beach, it should be a necessary step in your skin care routine each and every day of the year! Here are three of our picks for superhero sunscreens:Pevonia's Hydrating Sunscreen SPF 30: This is a favorite because of its formula! It leaves skin with a soft matte finish that's perfect for the body and the face and doesn't have that greasy sunscreen feeling. The SPF is enriched with Vitamins E, C, and B, so it not only protects your skin but it counteracts sun damage and prevents premature aging! 5 oz; $44.00
Noodle & Boo Play-Day Broad Spectrum SPF-50 Sunscreen: Perfect for baby's delicate skin, this SPF features a light weight, non-oily, and water resistant formula that's been tested by dermatologists and pediatricians to be sure its mild enough for daily use on babies 6 months and up that have sensitive skin! 4.5oz; $18
Skin Authority Age Defying Hydrating Sunscreen SPF 30 UVA 4-Stars: This water-resistant moisturizer provides full-spectrum UV protection. Using Skin Authority's Exclusive Dry Finish Technology™ skin feels dry to the touch after putting this dual-action sunscreen moisturizer on. Plus, essential vitamins, antioxidants, and fatty acids help to slow down the aging process. 5.1oz; $39
Even more superhero sunscreens here!
You might also like: 
Lighten Up! Dark Spot Removal & Hyperpigmentation 101
Sun Safety Cheat Sheet
Top 6 Picks: Sunless Tanners
Research Shows Vitamin A May Lower Risk of Melanoma