National Lipstick Day: Our Favorite Lipsticks, Glosses & Crayons
Published: Wednesday, July 29th 2015
in Beauty
---
There are national holidays that I don't take seriously (sorry, National Hot Dog Day, I did not celebrate you) but there are others that are a true cause for celebration, like today: National Lipstick Day. Last year we shared our 6 go-to shades but this year I've decided to bring out the Baker's Dozen; 13 of my go-to lipsticks that range from the perfect nude to the boldest red. Plus, for all of my fellow gloss loving gals out there, I've decided to bring them to the party too!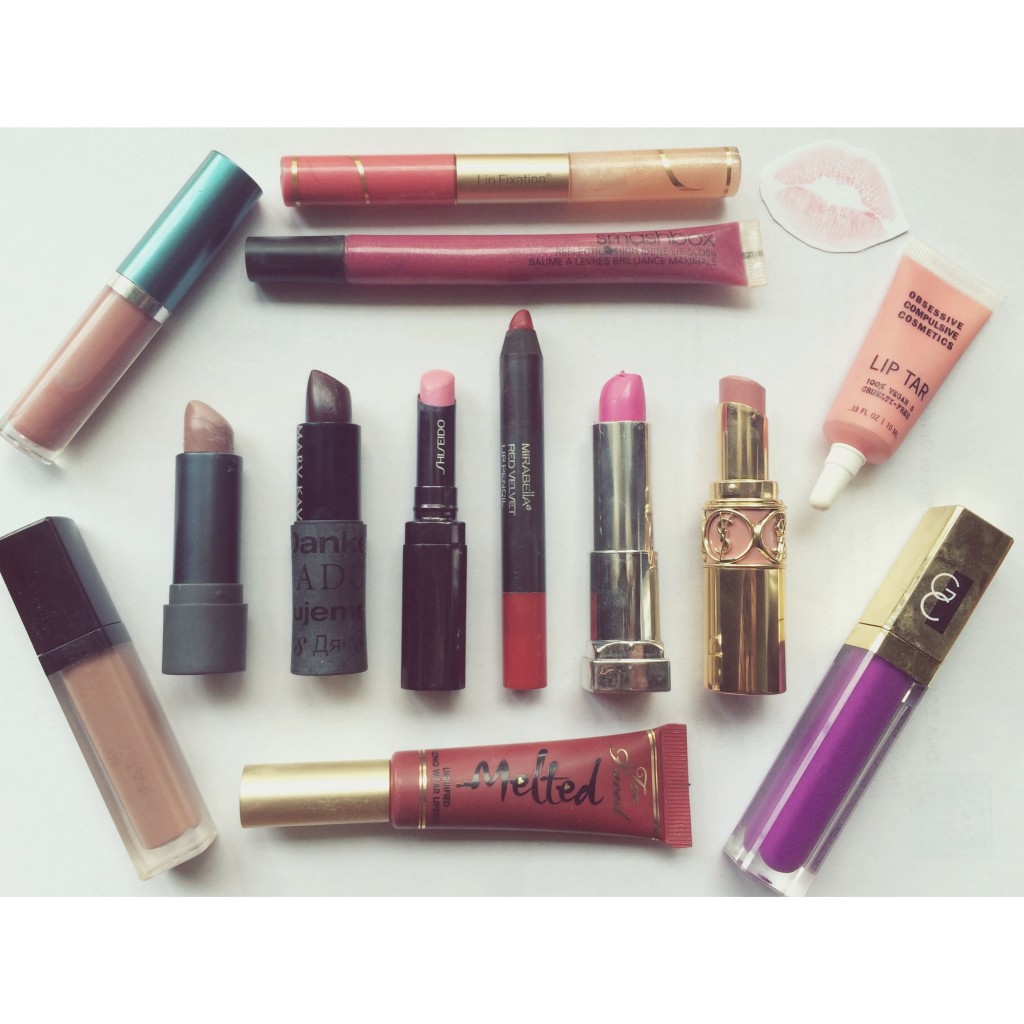 Fusion Beauty InFATuation Liquid Plumping Lipstick in In the Flesh (Bottom Left) – I have three of these in my possession because ladies, this is my signature color. My ultimate glossy nude go-to that plumps my pout while delivering an unparalleled nude lip. $29; fusionbeauty.com
Colorescience Sunforgettable Lip Shine in Rose (Top Left) – As if the perfect all-natural rose gloss that isn't sticky, has a slight mint scent, and a subtle plumping power wasn't enough, Colorescience Sunforgettable Lip Shine feature SPF 37 to protect your pucker from harmful UV rays. $29; colorescience.com
Jane Iredale Lip Fixation in Craze (Top Middle, #1) – This vegan, gluten-free watermelon matte stain plus champagne gloss is like having three products in one. The stain seriously stays put making it a favorite for when I go out to dinner and drinks. $30; janeiredale.com
Smashbox Reflection High Shine Lip Gloss in Va Va Violet (Top Middle, #2) – This magenta gloss was my wedding shade, it's not-sticky, and has been my go-to for when I want a subtle pop of color on my lips with a little shimmer. Unfortunately this exact product is no longer on the market, but you can grab it from Amazon. However the brand's newer Be Legendary Gloss in Rich Rose is a close dupe. $20; smashbox.com
Obsessive Compulsive Cosmetics Lip Tar in Divine (Top Right) – You will be hard pressed to find a lip product as pigmented and opaque as OCC vegan Lip Tars. This shade is a must for anyone looking for a true bubblegum pink. $18; occmakeup.com
Gerard Cosmetics Color Your Smile Lighted Lip Gloss in Wild Orchid (Bottom Right) – A glossy, creamy in-your-face purple, this lip gloss helps me achieve a bold look for nights out. It features a light on the applicator and a mirror on the side so reapplications on-the-go are a breeze.
Too Faced Melted in Velvet (Bottom) – If like me, applying a red lip gives you major anxiety, look no further than Too Faced Melted Liquified Lipsticks, combining the beauty of a lipstick with the application of a gloss and the staying power of a stain. You simply squeeze a small amount of the rich, saturated, creamy color onto the soft applicator and apply along the contours of your lip, no liner needed! This rich red is perfect for important events when you want to stand out, it wears without bleeding and comes off easily with a makeup remover wipe (no clown face here!). $21; toofaced.com
In the center, from left to right:
Bite Beauty Luminous Crème Lipstick in Cava – Some makeup smells good enough to eat, and Bite Beauty's lipstick is no exception. This creamy formula glides on lips, leaving you with a beige-lilac hue and a ton of moisture so the color won't leave you looking parched by the end of the day. $24; sephora.com
Mary Kay Creme Lipstick in Confidence – This deep merlot is the shade I reach for each fall however it's no longer sold (unless you search on Amazon). A close dupe is Mary Kay's Creme Lipstick in Rich Fig. $15; marykay.com
Shiseido Shimmering Rouge in Sorbet – Sheer finish with a hydrating formula Shiseido's Shimmering Rogue in Sorbet is a subtle pop of pink perfect for a day in the office or a day date. $25; shiseido.com
Mirabella Red Velvet Lip Pencil – Looking for a bold red? Look no further! This velvety formula delivers a seriously pigmented pout with blue undertones. While the color is unbelievable and truly does feel like velvet, I do find I need a little clean up after applying. $25; mirabellabeauty.com
Maybelline Color Sensational Lip Color in Fuchsia Fever – My very best friend introduced me to this bright, fun fuchsia shade and it has since become one of my repeat buys. It makes me feel like a brunette Barbie doll and is a fave for girls' night out! $7.49; ulta.com
Yves Saint Laurent ROUGE VOLUPTÉ in Nude Beige – I've lusted over the YSL lipsticks for awhile and when I finally bit the bullet and purchased one I couldn't have been happier! This is the perfect pinky nude shade that features a creamy, opaque finish, so a little goes a long way. $36; yslbeautyus.com
Do you have a favorite lipstick? Share it in the comments!