Get Picture Perfect with New Year's Eve Beauty Tips!
Published: Wednesday, December 28th 2011
in Beauty
---
New Year's Eve is just around the corner and we all likely have fun parties on our calendars to enjoy with our friends and families. If you're looking to jazz up your beauty routine for these special events, look no further! From makeup to hair, we've got tips for showing some holiday flair.
Dramatic Eyes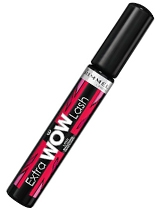 Take a hint from celebrity makeup artist Kristofer Buckle and go BOLD! "This holiday season think big and bold – thick bold lashes! [Use] a thickening and lengthening mascara, or try your hand at some fun false lashes," he says. The best mascara, hands down, I've tried is Rimmel London Extra WOW Lash Mascara. The supersized brush helps to add tons of volume and the lash building formula makes it look like I have false lashes on with each extra swipe. While it doesn't clump, I like to go over it one final time with a clean mascara wand to further define the dramatic look. If you want to go even bigger, take Buckle's tip and try some false lashes. I have tried them all but again, I go for the drug store brand when I use false lashes. My favorite falsies are by Revlon. My best tip for those who have trouble applying false lashes is to be patient since they probably won't go on perfect the first time. Make sure you trim a bit off the inner corner so the strip fits your eye, add the glue lightly along the strip, wait a bit so glue gets tacky (maybe 10-15 seconds) and then apply to the lash line and adjust carefully with a pair of tweezers. I usually squeeze the false lashes and my real lashes together with the tweezer so I know they are blended and secure. Follow up with a few sweeps of mascara and you're done!
Buckle also suggests bold lips in rich ruby, russet or magenta, which he says are huge this winter and perfect for the holidays. "For some extra glitz, take a gold or shiny beige eyeshadow and brush along tops of cheekbones and bridge of nose and inner corners of eyes," he advises. If lashes aren't your thing, definitely go for a bold lip – it screams holiday spirit! Something else that says "festive" is shimmer. While glitter may be for little girls and sixth grade art projects, shimmer is the very acceptable adult version. Highlighting my brow bones and check bones is pretty much a going-out must so it's, of course, on my makeup to-do list for the holidays. My favorite shimmery highlighter is Benefit's Watt's Up.
Holiday-Worthy Hair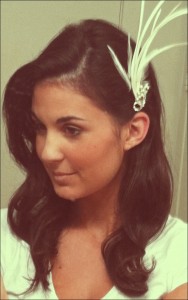 Looking for a great hairstyle for the holidays? Look no further than hair accessories! Touches of bling in a headband, barrette or hair comb really make a statement. To get this festive hairstyle we used a Brides Head Revisited feather hair comb and Sultra's The Bombshell Curling Rod (one of my Top Five Picks from 2011!) Start with straight hair, make a side part and then section off your hair into six (or more, depending on how thick it is) sections; you should have two sections in the front at the crown, two in the front at the base and two in the back at the crown and base.Taking each section one by one, curl the hair inward with your curling iron towards your face and then clip the curl in place with the clips. Once your whole head is curled and clipped, spray lightly with hairspray and let cool – this is when I like to do my makeup, multi-tasking is key this time of year! Remove all of the clips and let the curls fall, then brush out the curls into face framing waves and spray once more with hairspray. Attach your feather or any other blingy hair accessory and voila!
Well-Groomed Gents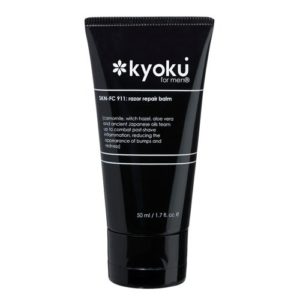 For our gentlemen readers, get a nice shave using Aveda Men Pure-Formance™ Shave Cream and Kyoku for Men Razor Repair Balm. Aveda's moisturizing shave cream is the perfect prep for a close shave, minus the nicks that usually come with one. It contains Aveda's exclusive phyto-active blend and has 99 percent naturally derived ingredients, great for someone with sensitive skin who is prone to razor burn. The Kyoku Razor Repair Balm takes care of the razor burn post shave. Formulated to fight the irritation, redness and dryness that follow a shave, this balm uses herbs like chamomile, witch hazel and aloe vera, along with ancient Japanese oils to increase blood circulation to speed up the recovery process.
We hope you enjoyed these holiday beauty (and grooming!) tips and have a healthy, happy and beautiful New Year! Share your picture-perfect looks and tips with us on SpaFinder's Facebook page!