Products We Love: Perricone MD Hypoallergenic Collection
Published: Friday, November 25th 2011
in Beauty
---
Sensitive skin affects millions of us and while there are four general types of sensitivity (acne, rosacea, burning/stinging and contact dermatitis), they all have one thing in common: inflammation.
Inflammation is aggravated when it comes to the complications of winter weather. While the next few months include great things like skiing, holidays and cozying up by a warm fireplace, they also include bitter cold winds and the inevitable dry patches, redness and breakouts that follow. Many of us can just use extra moisturizers to combat these problems, but those of us with sensitive skin are sometimes left to use products that aren't ideally formatted for our needs, leading to further redness, more breakouts and fingers-crossed for a fast winter. Perricone MD, seeing a need for a gentle yet effective take on sensitive skincare has created its new line, the Hypoallergenic Collection, to fill the void. As the brand's first dermatological-grade hypoallergenic collection, it was specifically created for sensitive skin.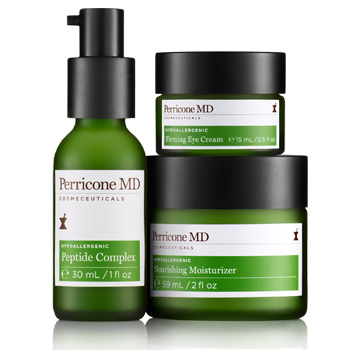 The new collection gives amazing results (smooth, even-toned skin) while still being gentle and safe enough for sensitive skin types; so gentle that the line is actually recommended for use after cosmetic procedures when skin needs all the extra TLC it can get. Dr. Nicholas Perricone, dermatologist and healthy aging expert, harnessed the power of the olive polyphenols, hydroxytyrosol and oleuropein, all of which are naturally occurring molecules found in the olive leaf and fruit to create the keystone of the line. The polyphenols are known to rapidly calm sensitive, dry and irritated skin. Being someone who definitely suffers from the skin complications that arise during colder weather, I gave the line a try. After using it for the last few weeks, I've noticed my skin is much more hydrated and even-toned…
The collection includes four products, all under $100:
Gentle Cleanser: A mild, non-detergent cleanser that eliminates dirt, oil and makeup without stripping skin of its natural oils. Formulated with green tea extract, this soothing cleanser leaves skin feeling soft, refreshed and residue free. $39
Peptide Complex: An anti-aging treatment formulated with two proprietary neuropeptides that work synergistically to increase the appearance of firmness, while toning and smoothing out surface and deeper set wrinkles. $98
Nourishing Moisturizer: A supremely hydrating moisturizer formulated with collagen-boosting neuropeptides, tocotrienols and ceramides. The emollient-rich cream helps prevent future wrinkles, repairs the skin barrier and helps  maintain a natural, supple elasticity. Great for use in themorning and at night. $75
Firming Eye Cream: A multi-tasking cream that addresses fine lines, loss of firmness, crow's feet, dryness and dark circles. Packed with hyaluronic acid, it's a surge of moisture that keeps skin feeling hydrated all day long. $65
The Hypoallergenic Collection is available through Sephora, PerriconeMD.com and other leading specialty stores.