Products We Love: Primavera Eucalyptus Cold Therapy
Published: Friday, December 2nd 2011
in Beauty
by
---
Seasonal colds are as big a part of winter as the holidays are, and once someone you know catches one, forget about it! There are so many over-the-counter medications that can help battle these inevitable sore throats, stuffy noses and itchy eyes, but what about someone who prefers a more holistic approach to cold remedies? Primavera, a German all-natural skincare and aromatherapy line, has created a Eucalyptus Cold Therapy collection specifically targeted to battle respiratory trouble associated with winter colds.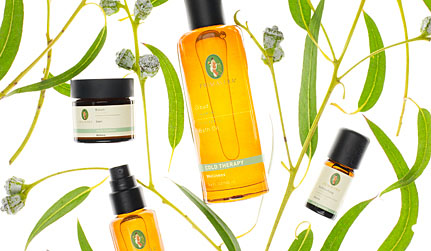 Using organic eucalyptus essential oil, which contains antibacterial qualities, the Cold Therapy line effectively relieves respiratory problems linked with cold symptoms. This collection gives us an all-natural alternative to some of the more conventional fixes from the local drug store. All of the products contain organic eucalyptus essential oil harvested from Primavera's farm partner in Portugal, organic thyme essential oil from France and Turkey and organic lavender essential oil sourced from France and Italy. The thyme is used to purify the air with a warm scent and the lavender offers comfort and supports relaxation.
Given that I had just developed my first winter cold of the season (thank you to the woman next to me on the bus that came to work sick) I thought that it was the perfect opportunity to try out the collection! I used three of the collection's products together and found that they genuinely not only made sleeping much easier but they had me feeling less discomfort than I normally experience during a cold.
Eucalyptus Balm – This soothing balm reminded me of a staple of my childhood – Vicks VapoRub – however, it has less of a medicinal smell and is far more comforting due to the addition of thyme and lavender. Before bed I would just rub a small bit under my nose, a very attractive look if I do say so myself. Looks aside, it was an incredibly effective way to breathe with ease through the night. $21 for 25ml
Eucalyptus Roll-On – This is a perfect take-along relief for colds. It fits easily in my purse and I was able to rub it on my temples and chest as needed during the day, allowing me to breathe easily without having to take any medicine. $17 for 10ml
Eucalyptus Pillow Mist – Not just for when you have a cold, this mist is by far my favorite product in the collection. The purifying air spray makes it easier to breathe and it also provides for a pleasant bedtime aromatherapy experience. Now that my cold has passed, I am still using it on my pillows at night.
With this collection, I feel well-prepared for the winter colds in my future. I didn't have to take any over-the-counter medication and everything I used was all-natural leaving me feeling good about the products I was using as opposed to worrying about overdosing on cold and sinus pills.
The complete collection of Primavera certified natural skincare and aromatherapy products can be purchased from www.PrimaveraLife.com.
You might also like:
3 Natural & Easy Tricks to Boost Your Immune System
17 Affordable & Easy DIY Spa & Beauty Recipes
How to Use Aromatherapy to Aid Digestion, Plus DIY Recipes
Aromatherapy 101