Skin Care: 4 Tips for Healthy Skin This Fall
Published: Tuesday, November 3rd 2015
in Beauty
---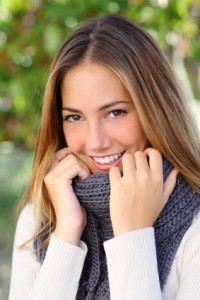 I don't know about you, but it seems any time the seasons change, so does my skin—and not always for the better: When the cooler temps of autumn come around, cue my seriously dry and dehydrated complexion. So suffice it to say when Pat Dutcher, spa director of SiSpa, located at Palm Beach Marriott Singer Island Beach Resort & Spa and Fort Lauderdale Marriott Pompano Beach Resort & Spa, offered four tips to keep skin looking and feeling its best, I (and my skin) was thrilled.
This fall season has met its match.
Pat's tips:
1. Take your daily vitamins, which will impact not only skin but immune health as well.
Vitamin A: when applied to skin can help reduce wrinkles, firm and tighten skin, and protect against UV radiation; fall foods (sweet potato, carrot, green tea, broccoli, and pumpkin) are excellent sources of Vitamin A.
Vitamin C: Vital to collagen production for firmer, tighter skin and can boost UV absorption when worn under sunscreen. "One pomegranate can supply 40 percent of an adult's daily requirement of Vitamin C," says Pat. Other Vitamin C-rich foods include orange, broccoli, cantaloupe, pumpkin, and tomato.
Vitamin D: Lack of sun and shorter days lead to less Vitamin D production, which is important for strong immune function. Pat suggests wearing a topical Vitamin D serum daily under sunscreen to give skin its daily dose. Liver, mushrooms, and egg yolks are also great sources.
2. Always wear sun protection—when it's sunny, snowing, and every other weather forecast in between. "Apply a full spectrum, moisturizing sunscreen daily to all exposed skin, including the face, neck, ears, décolletage, hands, and forearms," Pat recommends. "Always check the SPF number on the label (those with SPF 15 or greater yield the best results). Also, scan the active ingredient label to make sure it has UVA-blocking elements such as titanium dioxide or zinc oxide."
3. Wear a mask. Masks can restore nutrients and protective antioxidants that help skin fight the effects of seasonal changes. "Try applying a mask of eucalyptus, clay, and sulphur once a week to put nutrients and moisture back into the skin while fighting any inflammation," says Pat.
4. Double your scrub as a mask. "When exfoliating with a scrub that contains active enzymes from ingredients like papayas, raspberries, and mushrooms, the product can also be used as a mask," she shares. "After exfoliating as directed, leave the product in place for about 10 minutes to allow the enzymes to reduce inflammation and stimulate skin turnover. Mushroom enzymes are now trending because they stimulate and mimic the skin's natural rejuvenation without the 28-day waiting period."