Turn Up the Love with Our Valentine's Day Gift Guide
Published: Friday, January 27th 2012
in Beauty
---
This year we've rounded up some of the hottest gifts for your special someone! Whether you are shopping for him, her or getting something special for the both of you – we've got you covered!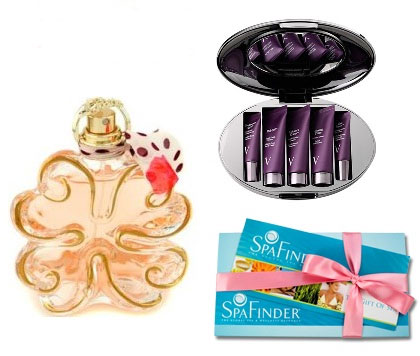 Lolita Lempicka Si Lolita Eau de Toilette
Buy her a scent that sparks your desire! Lolita Lempicka Si Lolita Eau de Toilette is the perfect fragrance for the special woman in your life. The eau de toilette is a light, crisp version of the Si Lolita perfume. Green top notes of lemon leaf and pink peppercorn create an undeniable freshness and lead the way towards the heart of sweet pea mixed with hawthorn and magnolia. The base of the scent is my personal favorite, notes of amber and white musk that leave behind an alluring aroma.
1.7 oz., $62; 1.0 oz., $48 at Sephora
vbeauté IT KIT
Give the gift of amazing skin with the vbeauté IT KIT. Complete with five essential, luxurious, refillable and customizable anti-aging products, this kit is a perfect gift and must-have for any lady in your life that loves her skin. The travel-sized products come in a sleek, gunmetal clutch, ideal for ladies on the go. Created by Julie Macklowe, the line is formulated with exclusive botanicals from Switzerland, particularly Alpine Rose, a flower that grows in the extreme climates of the Alps. The flower is known for its beauty in the summer and its ability to regenerate itself after the winter. The entire line is all-natural, paraben-free, gluten-free and not tested on animals. Included in the clutch are:
Rub Off: Gentle facial exfoliator
Buying Time: Everyday crème
Evidence Eraser: Gentle foaming cleanser
Eye Never: Nourishing repair eye cream
Undercover Agent: Anti-wrinkle serum
The vbeauté It Kit is available for $165 at Nordstrom.
SpaFinder Gift Card
Perhaps the best gift for your lovely lady is a SpaFinder Gift Card. Treat her to a day of spa that will leave her rejuvenated, refreshed and ready for whatever fabulous date plans the night has to bring. Select your SpaFinder Gift Card value here.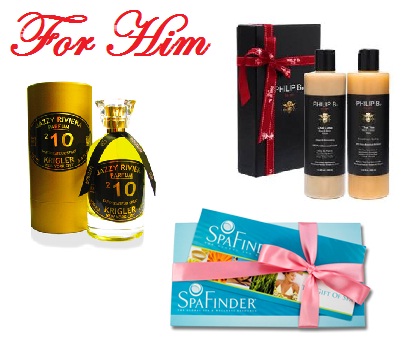 Krigler Jazzy Riviera ²10
This year surprise your guy with the gift of a signature scent that will make you both happy: Krigler Jazzy Riviera ²10. Wearing this fragrance, your man will be in good company; Albert Krigler was inspired by socialite friends Pablo Picasso, F. Scott Fitzgerald (SpaFinder Wellness Week 2012 Spokeswoman Mariel Hemingway's grandfather), Ernest Hemingway and Dorothy Parker. Top notes of clean citrus, bergamote, lemon and mandarin, a floral but masculine heart of coriander, freesia, cyclamen and a deep, woody base of Krigler's signature cedar, patchouli, musk and vetiver. I can attest that the aroma only gets better as the day rolls on and each of the notes is represented in a subtle yet unforgettable way.
Sample size, $9; 1.7 oz., $215/3.4 oz., $305 at Krigler
Philip B. Double Happiness Bath Collection – Body Wash Duo
Make your man doubly happy with Philip B. Double Happiness Bath Collection – Body Wash Duo. You'll be tempted to use the rich Chai Latte Soul and Body Wash and Thai Tea Mind & Body Wash every time you step into the shower. The Chai Latte has a warming effect and a spicy, aromatic scent while the Thai Tea cools the skin as it cleanses. Both washes are made of healing botanicals, which will leave your man's skin soft, silky and glowing. Best of all, the duo comes packaged in the signature Philip B. black gift box and tied with a Valentine's Day-approved red satin ribbon.
Each gift set contains 11.8 fl. oz./350 ml Chai Latte Soul & Body Wash and 11.8 fl oz/350ml Thai Tea Mind & Body Wash; $62 at Philip B.
SpaFinder Gift Card
You can always treat that special guy to a fabulous SpaFinder Gift Card, which he can use to indulge in a men's facial or sports massage to gear up for the rest of your Valentine's Day.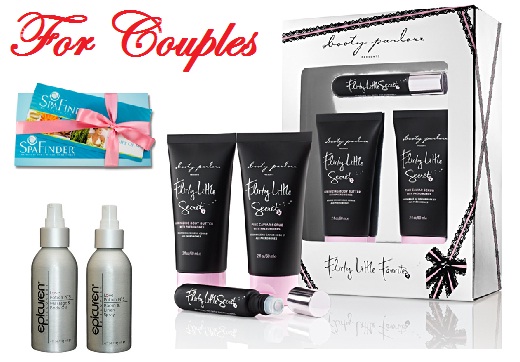 Love Potion No.5
Bring a little TLC home with Epicuren's Love Potion No.5. The exotic blend of cranberry, cardamom and vanilla along with hints of ylang ylang, patchouli, clary sage and orange, will have passions high and romance in the air. Choose between:
Room & Linen Spray, 4 oz.
This room and linen spray sets the tone with aromatic oils that transform any bedroom to a fragrant retreat.
Massage & Body Oil, 4 oz.
Bring the relaxation home with this precisely blended massage and body oil and give that special someone an at-home massage.
Please visit www.epicuren.com for more product information.
Flirty Little Favorites
Bring out your sexy sides with Booty Parlor's Flirty Little Favorites trio of beauty boosters, aimed to encourage flirtation. Booty Parlor formulates their favorites with a pheromone blend to inspire chemistry between you and your loved one. The kit includes a Pink Caviar Scrub, Luminizing Body Butter and Perfume Oil.
Flirty Little Favorites, $36 at bootyparlor.com.
SpaFinder Gift Card
If in doubt, grab a SpaFinder Gift Card to use at one of our Top Ten Romantic Spas or at your favorite day spa for a side-by-side couple's massage to relax, connect and celebrate the holiday!