SpaRahRah! Clean Beauty Products Launch
Published: Monday, January 23rd 2012
in Beauty
---
As if SpaRahRah!™ wasn't already an amazing site offering some of the most awe-inspiring spa, wellness and travel deals, starting January 27, it will be adding lust-worthy Clean Beauty Products to its offerings! The Clean Beauty Products will feature rising star, spa and beauty brands with an emphasis on those that are organic, nontoxic and chemical free. Here are some of the knockout brands you can look forward to seeing on SpaRahRah! in the coming weeks: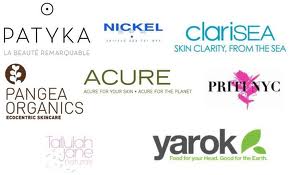 Patyka, a certified organic product line that includes skincare, body care and perfume, was launched in France in 2002. The team behind the brand travelled the world and used years of research to create Patyka out of natural potions and plant decoctions of family, botanical or apothecary origin and rare perfumes. The brand believes that every woman breathes an unexpected fragrance, expresses a dash of impertinence and embodies an elegant, rebellious spirit.
Nickel, a men's only spa started in New York, New York, has a line of men's grooming and skincare products. The line carries moisturizer, facial scrub, cleansers, eye care, bath, body and shaving products. The line is high performance, easy to use and gives instant results.
ClariSEA is a lifestyle brand focused on the improvement of skin and self through simple yet effective treatment products. The brand was born out of its creator Alison Ruth's discovery that sea salt helped to cure her acne. Rather than attacking the skin to kill blemishes, ClariSEA products naturally eliminate blemishes through deep exfoliation and renewal. All products are benzoyl peroxide free and can be used on all skin types, particularly sensitive skin.
Pangea Organics are formulated with organic ingredients to amplify hydration and support cellular regeneration by feeding the skin with antioxidant nutrients, EFA-rich oils and nourishing plant botanicals. The "Always Beneficial, Never Artificial" Pangea is always handcrafted, organic, fair trade and cruelty free. The brand is partnered with Women for Women International and helps to provide women survivors of war, civil strife and other conflicts with tools and resources to move from crisis and poverty to stability and self-sufficiency; five percent of the profits from Pangea Organics go to Women for Women International.
Acure Organics is a family owned and operated company founded on sustainable principles to provide the highest quality fair trade, natural and certified organic personal care products. All of Acure Organics products are free from animal testing, parabens, sulfates, phthalates, synthetic fragrances, harmful preservatives and artificial colors. Side note: Acure Organics Moroccan Argan Oil + Argan Stem Cell Shampoo and Conditioner have the most delicious smell ever!
Priti NYC provides luxury and eco-friendly nail polish that stemmed from its founder Kim D'Amato's conscious effort to switch to organic food and products while pregnant. Priti's mission is to support organic farmers and to decrease the amount of chemicals poisoning the earth – one manicure at a time. The polishes are completely nontoxic and come in a great array of colors.
Tallulah Jane presents beautiful fragrances that embrace the centuries-old craft Bourbon perfumeries with a bold, modern sensibility. The scents are made from organic and wild-crafted oils mixed together in certified organic grape alcohol or jojoba and then hand poured in small batches. The brand prides itself on its commitment to making products ethically and sustainable.
Meaning "green" in Hebrew, Yarok brings us organic hair products from renowned hair stylist Mordechai Alvow. The focus is to make the most impact on hair and scalp health with the least impact on the natural environment. Every product meets 100 percent of vegan requirements and is free of alcohol, paraben, sulfates and cruelty to animals.
Join us in welcoming the Clean Beauty Products to SpaRahRah!