Stress-Free Skin? Yes, Please.
Published: Friday, October 8th 2010
in Beauty
---
It's time to face the facts: Stress is not good for the soul, and it's not good for your skin. Prevention explains the cause of your skin's top five stress symptoms and how to correct them so you're on your way to a worry-free complexion.

Below are some of the article's highlights. Read the whole thing here.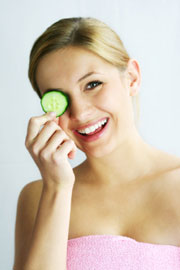 Dryness
"Chronic stress increases the hormone cortisol, which damages skin's ability to hold on to water," says Peter Elias, MD, a professor of dermatology at the University of California, San Francisco. The resulting moisture loss also diminishes luminosity, explains David Goldberg, MD, a clinical professor of dermatology and director of laser research at Mount Sinai School of Medicine.

Correct It: Look for hypoallergenic, fragrance-free products. "Their lower pH prevents further dryness and inflammation," says Goldberg. Wash your face with lukewarm water; hot temperatures strip skin's oils. Slathering on your face cream while skin is slightly damp traps moisture.

Redness
The increased blood flow that occurs when you're under duress may cause capillaries to expand. Stress also triggers flushing known as rosacea, according to the National Rosacea Society. And because stress weakens your immune system, flare-ups may last longer.

Correct It: When used daily, topical creams made with anti-inflammatories such as allantoin and licorice root extract can ease ruddiness. Rx treatment includes light and laser therapy that zap blood vessels: You'll need several sessions that each cost $300 and up. If you suffer from rosacea, you may need topical prescriptions to reduce inflammation.

Tired Eyes
Anxiety causes a chain reaction, leading to sleepless nights, which in turn cause puffiness, says Amy Wechsler, MD, a dermatologist and psychiatrist in New York City and author of The Mind Beauty Connection.

Correct It: Use cucumber slices as mini ice packs for the eyes; they constrict the blood and lymph vessels that bring fluid to the area. Sleep with your head slightly elevated to prevent fluid from pooling.

(Via: Prevention)