The Secret Ingredient: Rose
Published: Thursday, June 18th 2015
in Beauty
---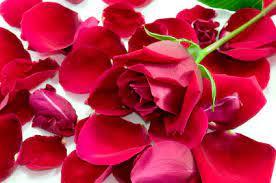 Rosewater was once exclusively reserved for royalty, Cleopatra was said to be a big fan, but now all of us can reap the benefits of these timeless blooms. Not just a beautiful addition to your favorite vase, roses, specifically in oil and water forms, have massive health and beauty benefits including the ability to boost your mood and libido, cleanse and hydrate the skin, and so much more!
Rosewater and rose oil are primarily derived in two forms:
Rosa Damascena – Damask Roses which typically hail from Bulgaria, Turkey, France, and India. These are preferred for their strong aroma and higher oil content.
Rosa Centifola – Cabbage Roses mostly from France, which have a lighter and sweeter fragrance.
Rose oil is one of the most expensive essential oils due to the amount of rose petals (upwards of 10,000!) needed to extract just one ounce of this highly concentrated oil. Thanks to the high concentration, just a small amount is needed to enjoy its benefits. Rose oil is amazing for hydration (great for skin conditions like psoriasis and eczema) and it contains astringent and anti-inflammatory properties (perfect for problematic, red skin, and even helps to strengthen your scalp). As well, rose oil can help to fade away scars and stretch marks thanks to its antioxidants. There is also rosehip seed oil, which comes from the seeds and is high in vitamin A, omega-3, and omega-6 fatty acids. Rosehip seed oil is great for hyperpigmentation, hydration, and for smoothing fine lines. Finally, rosewater is derived from steaming rosebuds in water, and is used often in mists and toners for its hydration, toning, and antibacterial benefits.
In honor of National Rose Month, we're sharing some of our favorite rose oil, rosehip seed oil, and rosewater beauty products below so you can try out the amazing beauty benefits of roses at home!
Korres Wild Rose Advanced Brightening Sleeping Facial
Get your beauty rest while you reap the rosy benefits of wild rose oil and rosewater with this sleeping facial masque from Korres. It evens skin tone, lightens dark spots, and leaves skin incredibly smooth and soft. Simply massage into skin after your usual cleansing routine at night, sleep in the masque (it will fully absorb into your skin, not your pillow), and wake up with radiant skin! $48; korresusa.com
Amala Rose Concentrate
While not a beauty product, this portable rollerball from Amala does wonders to uplift your spirit and release tension. The organic rose oil and rosewater give this concentrate an unbelievable aroma that helps to instantly restore your inner balance while you're on-the-go. $20; amalabeauty.com
Weleda Wild Rose Smoothing Eye Cream
This hydrating eye cream helps to smooth out fine lines and reduce puffiness with organic rosehip seed oil. Your delicate under-eye skin is protected from free radical damage thanks to vitamins A and E and the fatty acids help to increase skin elasticity. $28.50; usa.weleda.com
Fresh Rose Floral Toner
Keep skin hydrated for up to 24 hours (and instantly uplift your mood) with this fabulous facial mist. Made of calming and moisturizing rosewater, which also helps to tone skin, this mist is perfect for prepping skin for serum, setting your makeup, and just giving it a little love during the day. $40; fresh.com
Do you have a favorite rose product? Share it in the comments!