Top Detox Programs: From Organic to At-Home
Published: Thursday, February 2nd 2012
in Beauty
---
As 2012 continues to roll out, we're here to motivate you to make due of the resolution(s) you promised yourself at the start of the New Year (I, for one, definitely needed a reminder!). And if your resolution had something to do with weight loss, but you need a slight kick start to, well, jump start shedding pounds, you may want to consider a detox.
When I hear the word detox, one of the first things to come to mind is Gwyneth Paltrow, who's long expressed her affinity to detoxes to help maintain her stunning figure. Why some of her detoxes may seem a bit extreme for me to try, detox offers benefits aplenty (if you do it correctly), including the improvement of immune functions, the initiation to healthier eating and, of course, the elimination of toxins, which can speed up metabolism.
Here are some fantastic detox programs found at spas worldwide — and if you can't make it there, we have some at-home detox tips to try as well.
The Farm at San Benito – Batangas, Philippines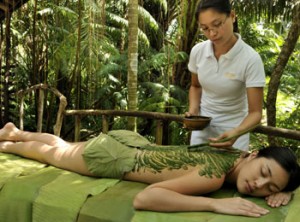 Organic Weight Loss Retreat: Specifically targeted to include the Farm's award-winning ALIVE! cuisine and detox meals, along with specific integrated medical services (nutrition support, holistic health consultation, colonics, acupuncture, etc.), healing sanctuary treatments, a complimentary fitness evaluation with a personal trainer and more to achieve rapid and sustainable weight loss!
Starting at PHP 110,000 net / US$2,619 net per person valid until April 28, 2012 except peak periods. Contact the property for details.
Red Mountain Resort – Ivins, Utah
Body in Balance Detox: A renewing experience to support you for 28 days of detoxification, including seven nights in a deluxe room, three gluten-free meals and detoxifying smoothies daily, personal nutrition assessment, lymphatic draining treatment, acupuncture and more.
Select weeks available; starting from US$300. Contact the property for details.
Ananda in the Himalayas – Uttaranchal, India
Yogic Detox: This new package uses the different Hatha yogic cleansing techniques (Shatkriya) to detox in a natural and effective way. In Yogic detoxification, aspects of asana (Hatha yogic postures), pranayama (yogic breathing techniques), meditation and Yogic/Ayurvedic diet are incorporated along with Shatkriya to give profound experiences of vitalization and harmony.
7-, 14- or 21-night stays available; starting from US$4940 for seven-night stay. Contact the property for details.
Gwinganna Lifestyle Retreat – Queensland, Australia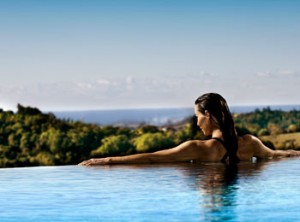 Seven-Night Gwinganna Detox: The "Rolls Royce of lifestyle retreats," as the spa calls it, includes all organic meals and snacks, two classic massages and one facial, a $100 wellness therapy credit, lifestyle seminars, cooking demos and more.
Spring Detox dates: August 12-19, 2012; September 16-23, 2012. Contact the property for pricing details.
Spa At-Home:
Martha's Vineyard Holistic Retreat – Vineyard Haven, Massachusetts
90-Day At-Home Program: The new three-part customizable program — which can be purchased for home or following a visit to Martha's Vineyard retreat — includes webinar support, detox body wraps twice a week and detox maintenance home supplements.
Learn more about the spa's 90-day at-home program here.
Plus, enjoy a quick 12-step rundown to detox at home, with tips from Mirbeau Inn & Spa; read the full story here.
Start your morning with a tall glass of water with the juice of ½ of a lemon.
Decrease your sugar intake.
Eat more rice products and less wheat and processed grain.
Eat as much fresh organic fruits and vegetables as possible.
Use unheated flax seed oil instead of other cooking oils.
Eat vitamin C-rich foods to help detoxify your liver and strengthen the immune system against toxic exposure.
Make sure you have adequate amounts of vitamins D, E and K in your diet.
Sweat.
Drink plenty of filtered water during and after your workout.
Eat more foods with amino acids (grass-fed meat, wild fish, cage-free eggs, etc.).
Meditate.
Exercise.