What is Strobing? Our 5 Favorite Illuminating Beauty Products
Published: Wednesday, July 15th 2015
in Beauty
---
Just as we've gotten the hang of highlighting and contouring, a new makeup technique has found its way into the spotlight, quite literally. Strobing is the latest way to sculpt your face, by highlighting your best features with products that add a little bit of shimmer and shine.
Unknowingly, I've been #strobing for years, adding highlighter to the bridge of my nose, cupid's bow, brow bones, and the apples of my cheeks (though the technique also includes adding the shimmer to your forehead and chin). Essentially you are mimicking the effects of Golden Hour, that picture perfect time of day when the sun is going down and naturally hitting these facial features, giving you an ethereal glow. If you're looking to give strobing a try I've rounded up some of my very favorite illuminating products below, ranging from a subtle, natural effect to a more dewy glow!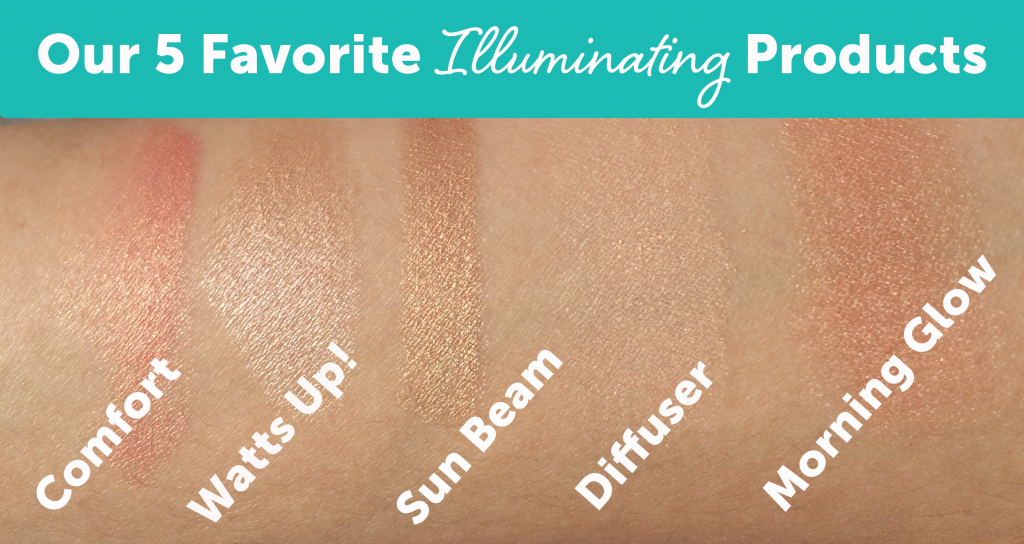 Colorescience
For a bronze shimmer, ideal for those with medium to dark skin tones try Colorescience's Pressed Mineral Illuminator in Morning Glow ($39) and for those with paler complexions or who simply want a more subtle shine, try the Pressed Mineral Illuminator/Diffuser ($50). Both all-natural products contain pearl powder which is rich in amino acids and minerals that help to improve the tone and texture of your skin over time!
Benefit
Benefit has long been my go-to for illuminating highlighters. I've tried most of the products but the two that have become mainstays in my makeup arsenal are Watt's Up! ($30) and Sun Beam ($26). Watt's Up! is my year-round fave as it compliments my complexion each season with a soft, champagne colored glow that I can easily blend. In the summer months, or for those with deeper complexions, Sun Beam is a golden bronze liquid highlighter that is applied by dotting on with a brush and tapping with your fingers to blend. Both products offer a lasting glow, one that caused my own mother to ask if I had gotten work done!
Jane Iredale
It's no secret I love a good double-duty product and Jane Iredale's In Touch Highlighter ($28) fits the bill! This cream-to-powder highlighter gives a great glow with the added benefit of a creamy flush in one of two shades. Comfort is an all-natural peachy hue I love that is perfection on the cheekbones!