Diamonds are Forev…er, Not Really: The Most Expensive Nail Polish in the World
Published: Thursday, August 2nd 2012
in Beauty
---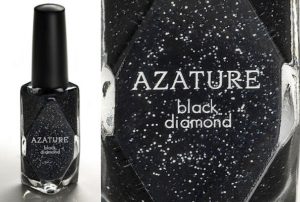 Have $250,000 lying around? Get some nail polish! No, really, for just $250,000, you can score the latest launch from celebrity and royalty designer AZATURE: Black diamond nail polish. Yes ladies and gents, you heard us right…NAIL POLISH – for $250,000!
Clearly directed at those with cash to burn, the self-dubbed "most expensive nail polish in the world" gives a whole new meaning to the phrase "dripping in diamonds." The limited edition, one-of-a-kind AZATURE Nail Polish (honestly folks, there is only ONE bottle of the stuff) contains 267 carats of black diamonds! And no, this diamond does not last forever.
"The black diamond is the ultimate fine jewel. Its combination of beauty, mystery, and sophistication makes it a timeless luxury," explains Azature, founder of the luxury jewelry brand. He only goes by the one name and is also known as the Black Diamond King. "One day I thought, 'Why not showcase this style on nails?' So I developed a black diamond nail polish with the same attention and quality as my jewelry in order to preserve the elegance of the black diamond. I am thrilled to offer this new twist on fine jewelry!"
Want to get in on the black diamond manicure fun but haven't quite figured out the key to winning the lottery? There's still hope! AZATURE also created a polish that features a real black diamond and retails for $25. The lower-end (yes, lower-end $25 nail polish) version comes in AZATURE signature black and finishes in a glittery sheen that resembles the black diamonds the brand is known for.
The lower-priced nail polish will be available at Fred Segal beginning August 2012.
What do you think of "the most expensive nail polish in the world?"