Branching Out: 5 Tree House Hotels, Resorts & Spas
Published: Monday, August 20th 2012
---
Let's just call it spa-ing Robinson Crusoe style.
Taking tree climbing to a whole new sophisticated level, these spa resorts offer a unique tree house-type design esthetic – whether it's a spa, guest room or restaurant being built into the enveloping branches or amidst lush tree tops – that even non-nature lovers can appreciate.
Long beloved, tree houses will never go out of style, and people are taking this everyday backyard pastime to new heights (JK Rowling is constructing Hogwarts-inspired tree houses in her backyard for her children…and have you ever seen the tree house in NYC's West Village?); the spa world is just the latest ─ in an exotic, luxurious way, no less.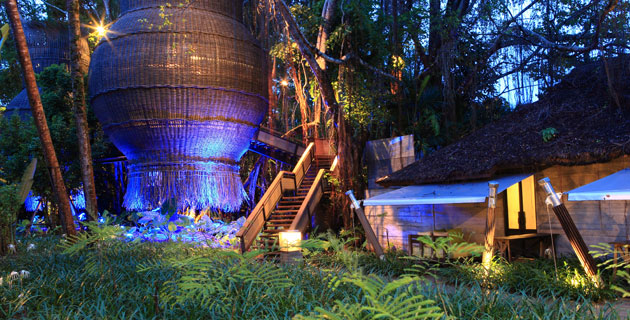 Indigo Pearl
Who: Indigo Pearl
Where: Nai Yang Beach and National Park, Phuket, Thailand, 83110
What: The Coqoon Spa at Indigo Pearl has a signature treatment room; nicknamed The Nest, it's a wicker tree house hanging from the verdant branches of an ancient banyan tree (guests access it by a "flying" bridge). Sounds sensational, right? We agree – it was part of the "Wow Factor" trend in our 2012 Spa Trends Report.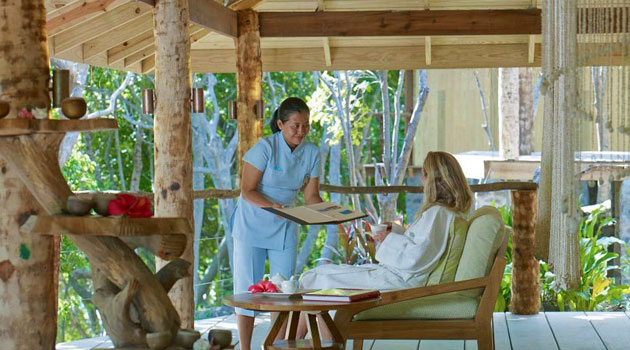 Petit St. Vincent
Who: Petit St. Vincent
Where: Private island in the St. Vincent & the Grenadines, Caribbean; reservations office: Petit St. Vincent Private Island, P.O Box 841338, Pembroke Pines, Florida, 33084
What: That it's on a private Caribbean island should be plenty, but with a new tree top spa, this Petit St. Vincent resort is paradise found. The four-treatment-room spa is built of coconut trees, driftwood and natural wood and comes complete with a relaxation deck and secluded outdoor showers. We'd gladly shipwreck here.
Resorts World Sentosa
Where: 8 Sentosa Gateway, Sentosa Island, Singapore 098269
What: Nestled amidst a canopy of native trees, the new Tree Top Loft accommodations include the Angsana and Tembusu suites. These "log cabins in the sky" sit atop four columns seven and 12 meters above ground. The one-bedroom lofts (bigger than my first New York apartment) include spacious living rooms, en suite bedrooms with walk-in wardrobes, sliding glass doors and 360-degree forest views.
Primland
Who: Primland
Where: 2000 Busted Rock Road, Meadows of Dan, Virginia 24120
What: The Golden Eagle Tree House debuted at Primland in summer 2011, resting in the limbs of one of the property's oldest oak trees. It was designed and prefabricated in France by tree house architect extraordinaire firm, La Cabane Perchée. Green-conscious design efforts  include a special binding system that situates the tree house, built of red cedar, without ever driving a nail into the host tree. Elements like Frette robes and slippers, L'Occitane en Provence products and free high-speed Internet evoke a luxe feel.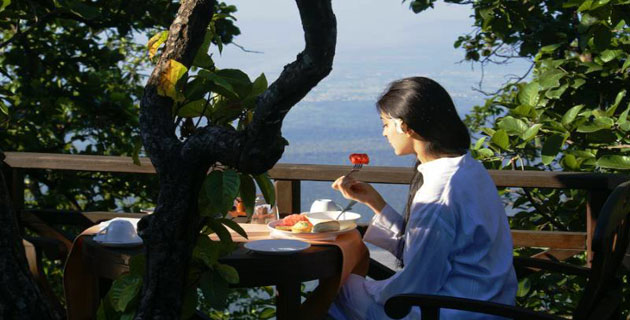 Ananda in the Himalayas
Where: The Palace Estate, Uttaranchal, India, 249175
What: The Tree Top Deck is the alfresco counterpart to the spa destination's restaurant. As its name suggests, the dining deck is built on treetops so guests are immersed in nature, plus, the lush vegetation makes for a backdrop that's trés romantic – naturally.
Most recent from Editors' Picks