How to Change Your Skin Through Diet
---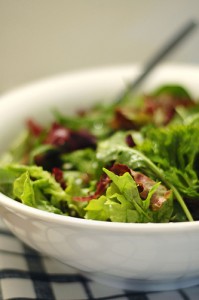 You are what you eat, right? Well, we definitely know that what we eat has an effect on almost everything going on in bodies, but it also affects the condition of your body from the outside – including your hair, skin, and nails. Our friends at NewBeauty took a look at how to change your skin internally through diet, and said that since digestion and diet have a direct effect on skin behavior, targeting your daily diet should be the first course of action when rebuilding your skin.
"Once you've identified the foods that are contributing to less than ideal skin, eliminate them, then, nourish your skin with a customized at-home skin-care routine, which should consist of proper cleansing, regular moisturizing and diligent use of skin-care products," NewBeauty says.
Here are NewBeauty's tips on what to eat and what to avoid.
+What to Eat
If your body can properly digest raw vegetables and fruits (you don't experience stomach cramping or bowel problems), eat them with every meal.
Whole grains are loaded with vitamin B, which is necessary for proper cell division.
High-quality protein, like organic turkey and chicken, should be incorporated since it helps produce collagen.
A tablespoon or two of flax seed oil – rich in omega-3 fatty acids that are essential for supple skin – helps prevent inflammation and keep the dermal layers thick and cushiony.
-What to Avoid
Limit dairy. Milk and cheese are full of hormones and antibiotics that can cause mucus to grow in the digestive system, which can cause breakouts. Aged cheeses and the goat's and sheep's milk are thought to produce less mucus than cow's milk and soft cheese.
Cut back on coffee. Keep the number of cups you drink to a minimum since caffeine hinders cells from absorbing and holding water.
Curb sugar. Sweets can throw off the balance of the body, causing unneeded inflammation.
Via: NewBeauty