Health and Beauty H2O Additives: The Fountain of Youth?
---
While various functional beverages have seen makeovers and new ones have been invented, water additives have reared a new head and created a health and beauty beverage market.
Instead of additives to supplement your water with when you're sick or not feeling up to par, these additives offer an alternative to pills, taking on the role of maintaining wellness, with some even claiming to improve skin quality. While no claims have been verified by the FDA, some people are raving about these types of products, while others are left wondering what the hype is about. What do you think – are these water additives gimmicks or gems? Whether you opt to try some of these out or not, staying hydrated with at least 64 oz. of good old water (with supplements or not) throughout the day, every day, is one key element in the formula for a healthful body inside and out.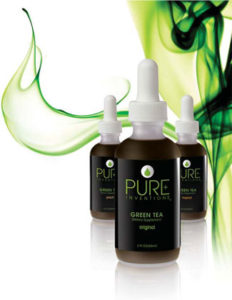 Pure Inventions – Naturally flavored and free of caffeine, calories, artificial sweeteners, sugar, alcohol, and gluten, Pure Inventions extracts come in a handy eyedropper bottle. With various flavors offering different healthful benefits, these extracts add some nutrients and a little flavor to any glass of water. Sweetened with Stevia, a natural sweetener, the green tea extracts include added polyphenols from Lotus Leaf and Kudzu, which makes one serving equal to 100 mg of green tea. We also loved the Cranberry + Elderberry extract, which is rich in immune-boosting properties and antioxidants, and uses Lo Han fruit (great for digestion) as a natural sweetener. Green Tea varieties are available in 2 oz. bottles for $30.75 and Cranberry + Elderberry extract is available in 4 oz. for $40.75, www.shop.pureinventions.com.

Dr. Brandt Anti-Oxidant Water Booster – This drink claims to help protect against free radical damage and promote healthy, youthful skin from the inside out. Dr. Brandt's liquid digestible supplements harness the power of green tea, white tea, and grapeseed extract. Made from 100% natural ingredients, these water boosters are also caffeine-free, sugar-free and calorie-free. Available in original, goji/maqui, pomegranate, and blueberry flavors; $39 for 2 oz., www.drbrandtskincare.com
Related posts:
6 Healthy "R's" of Taking the Waters
Top 6 Drinks for Deep Relaxation
Salmon and Broccolini Recipe: De-Stress with Omega-3s, Folic Acid, and Vitamin B!