The Water Secret by Howard Murad, M.D.
Published: Friday, February 25th 2011
in Beauty
---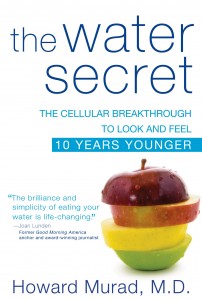 Can you keep a secret? We never could either, which might just be a good thing, because this is a secret worth revealing! Skincare guru Dr. Howard Murad's book The Water Secret: The Cellular Breakthrough to Look and Feel 10 Years Younger (John Wiley & Sons, Inc.) divulges the principles to leading a healthy, sustainable lifestyle and debunks the myth that you can't reverse the damages of aging. The concept? Eat your water, don't drink it.

In other words, drinking 8-10 glasses of water per day isn't the only answer to hydration – the water needs to reach the cells and connective tissues and remain there in order for the cells to function at their optimum levels. As every cell in your body renews itself within a 10-week period, Dr. Murad offers a 10-step plan (executing one per week) to making simple changes in your everyday life that will help you live by the water secret routine — these straightforward shifts are so easy-to-follow, in fact, it doesn't feel as though it's a chore – it's simply a lifestyle. Added bonuses include recipes (my fave's the tomato salsa on p.128) and daily meal plans.
www.thewatersecretbook.com; $18.95
Plus, try this delicious recipe as another way to quench your thirst: Hydrating Spa Recipe: Eat Your Water with a Tropical Fruit Salad!