Products We Love: GliSODin Skin Nutrients Advanced Daily Formula
Published: Monday, August 9th 2010
in Beauty
---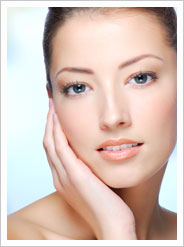 Let's face it: When it comes to our skin, we want a clear complexion—and frankly, we want to achieve that with the least amount of work possible.

Enter the Advanced Daily Formula by GliSODin Skin Nutrients nutricosmetic line—you pop two soft-gel supplements per day, preferably in the a.m., and you're on your way to glowing skin. How simple is that? Plus, I read that Gwyneth Paltrow and Drew Barrymore have tried them. (Sold! I'll have what they're having, please.)

Without getting too scientific, the supplements contain key ingredients such as the omega 3-rich krill oil, cacao bean, hyaluronic acid, and sea buckthorn berry oil, which is nutrient-packed in vitamins, minerals, and carotenoids. The expected benefits? Rejuvenation and hydration of the skin, reduction of fine lines and wrinkles, and protection against damaging radicals are among them. And I swear, they give me an energy boost as well.



Fairly large-sized, the supplements are scarily intimidating in appearance at first, but a slippery coating makes them easy to swallow. The only eh part? The pills have a bit of a smell (maybe it's the krill oil?) that takes a bit of getting used to. But one look in the mirror at my brighter complexion after a month of taking the Advanced Daily Formula, and I'm hooked. These supplements are a supplement to my beauty routine.

GliSODin Skin Nutrients are only available through authorized premium wellness spas, medical spas, dermatologists and cosmetic surgeons. Click here for where to buy.