Products We Love: KLORANE No Rinse Care with Pomegranate
Published: Friday, July 16th 2010
in Beauty
---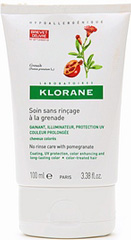 It's as simple as 1-2-3. To keep your hair color as vibrant as if you'd just left the salon chair, all you have to do is apply two or three small dabs of the product throughout dry or damp hair (longer hair may need a further dab). No need to rinse, I just ran my fingers through my mane and was out the door.
And can I just say? It works.
The KLORANE No Rinse Care with Pomegranate is designed to protect hair color, repair damage, and act as a protectant with UV filters against the sun's harmful rays. What more could your strands ask for?
Klorane celebrates the pomegranate not only because it's a key antioxidant for a healthy diet, but because it's said to be a high-performing hair color protector. As a blondie, I'm always looking for a product that will maintain my color and keep it radiant.
The product offers a subtle, sweet smell, and the pinkish color (must be the pomegranate?) is equally appealing. In just a couple of tries, my blonde hair became even brighter, and the rinse product has become part of my hairdo hair do's.
3.4 oz, $14; available at Beauty.com and Spalook.com.
Learn more about Klorane Laboratories and its pomegranate line.