3-Minute Facial from SUPER by Dr. Nicholas Perricone
Published: Friday, December 9th 2011
in Beauty
by
---
It's no secret that I am a huge fan of Perricone products. I find them to be gentle on my skin yet incredibly effective. I've come to store all of my old products under the sink to make room for my ever-growing Perricone collection (read: obsession). Of all the lines Dr. Nicholas Perricone has created, SUPER is by far my favorite. Just like superfoods feed our bodies' hunger for healthy and delicious nutrients, SUPER uses superfood ingredients to feed skin that is hungry for nourishing care.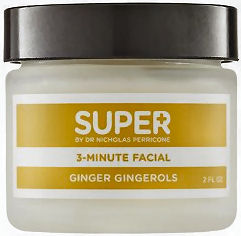 Superfoods contain the highest concentration of phytochemicals, which are plant-based chemicals that activate the age-fighting process. Dr. Perricone's research proved that when these phytonutrients are extracted, concentrated and stabilized for topical application, they assist in cellular repair and offer anti-inflammatory benefits. "SUPER is inspired by nature, backed by science" and proves that effective skincare doesn't need to be formulated with harsh chemicals.
My favorite product in the line is the 3-Minute Facial Intensive Treatment. This fast, at-home facial features:
Ginger Root Extract, which stimulates the skin and increases circulation for a healthy glow
Capsicum Frutescens Extract, a protective antioxidant found in hot peppers which acts as an astringent
Phosphatidylcholine, which encourages rapid penetration of the key nutrients
Mineral Complex, including zinc, magnesium and copper, which help to firm the skin
I love to use this three-minute mask whenever my skin is in need of a fast pick-me-up. After the first use, I liked how clean my skin felt though I didn't feel like I noticed a difference in my complexion. After my second use, I put a little extra cream on my face and after three short minutes became a believer! Using a bit of extra product made all of the difference with this mask. I felt tiny tingles and heat as I let it sit, making me realize how effective the ingredients were. After I washed the treatment off of my face I was left with brighter, glowing skin. I officially use this before every outing and every time I feel like I need a little extra something.
Free of parabens, propylene glycol, mineral oil, phthalates, sulfates, synthetic dyes and fragrances, SUPER is  created with essential oils, natural extracts, FDA-approved food flavors and high concentrations of superfood-derived antioxidants.
SUPER by Dr. Nicholas Perricone ranges from $20-$50 and is available at Sephora stores and Sephora.com